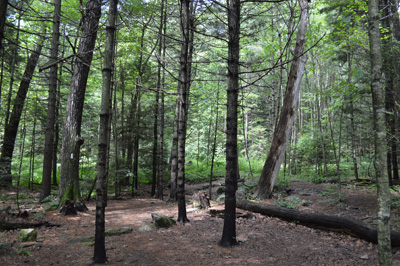 Expansive growth around Greater Portland has consumed many tracts of community open space that once offered valuable wildlife habitat and opportunities for walks and family outings. Thanks to the vision and generosity of the former landowner, Robinson Woods will remain a community resource that generations of local residents can enjoy.
The property was offered to the Cape Elizabeth Land Trust (CELT) for half its market value so that its old-growth trees, established trails, vernal pools, and rocky oceanfront would remain unspoiled and accessible. CELT was able to complete the purchase with funds raised from community members, the Town of Cape Elizabeth, the Casco Bay Estuary Project's Habitat Protection Fund, and the Land for Maine's Future program. CELT now owns and manages this forest sanctuary, on which Maine Coast Heritage Trust holds a conservation easement.
There are more than 3 miles of trails on-site, ranging from flat and wide to winding and hilly.
Closest Town
Cape Elizabeth
Activities
Bird & other wildlife watching, hiking, snowshoeing, cross-country skiing, dog walking (on leash), and mountain biking
Region
Southern Maine – York, Cumberland
Acres
81
Directions from nearest town
From Cape Cottage/Fort Williams, follow Shore Road south approximately one mile, pulling over by the trailhead by the intersection with Belfield Extension (just beyond Lawson Road). Robinson Woods is on the right, with a small adjoining parcel on Pond Cove. The property is also accessible from Dyer Pond Road and Rock Crest Drive in Stonegate.