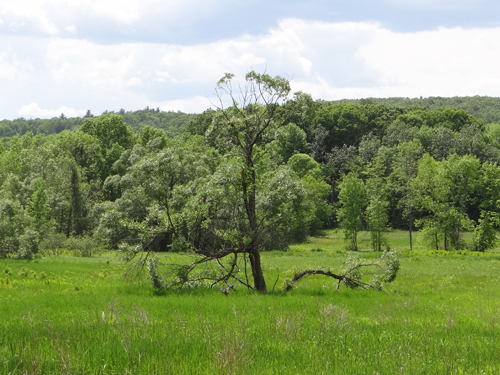 Just north of Merrymeeting Bay, the Hiatt Farm borders the Kennebec River, its 40 acres of hayfields rolling down to extensive tidal marshlands. The historic nature of this farm is evident along the waterfront, where remnants of a pier testify to the days when "Kennebec Ice" was cut on site and loaded onto schooners. The farmhouse that is now on the upland portion of the farm was once situated by the water, serving as a boarding house for ice workers.
With support from the Land for Maine's Future (LMF) program and the USDA Farm and Ranch Land Protection Program the Maine Department of Agriculture acquired a conservation easement on Hiatt Farm that will prevent future subdivision and development while protecting productive farm soils, valuable wildlife habitat and community open space. The easement helps to ensure that this prime farmland will remain in productive use and be available and affordable for farmers in the future.
Please note: On private farms protected with Land for Maine's Future program support, public access is by landowner permission. Please see the icons to determine allowed uses and follow any guidance posted on the property. For more information on how to obtain landowner permission, contact Stephanie Gilbert at the Maine Department of Agriculture, Conservation and Forestry. Hiatt Farm does have a 0.2-mile path on the lowland section of the property that affords river access (through a dense alder thicket). Permission is not needed for daytime use of this path.
Closest Town
Dresden
Activities
Hiking, snowshoeing, cross-country skiing, bird & other wildlife watching, and fishing
Region
Midcoast Maine – Sagadahoc, Lincoln, Knox, Waldo
Acres
92
Directions from nearest town
DeLorme Maine Atlas and Gazetteer, Map 6, A-5. From Richmond, follow Route 197 east over the bridge to the first 4-way intersection, turning left on Route 128. After about 3 miles, Route 128 makes a 90 degree turn east, heading uphill away from the river. A dirt road, called Everson Road (Old Cedar Grove Road on the Atlas), continues straight at this intersection. The Hiatt Farm lies on either side of Everson Road (with a fence line marking its northern boundary). Visitors can park along this road, although access to the river is difficult from here–with a dense thicket of briers and willow between the road and the river.