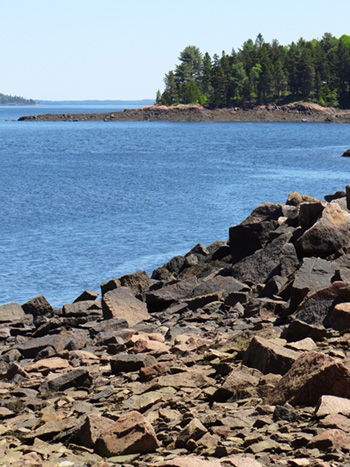 The City of Calais and the St. Croix International Waterway Commission were able to conserve the highest headland in Downeast Maine, Devil's Head, with significant help from the Land for Maine's Future program, the Maine Coastal Program, Maine Department of Conservation, Maine Outdoor Heritage Fund and others. Devil's Head, which towers 340 vertical feet above the St. Croix estuary, is reached by a trail that offers exceptional views of the international coastline and St. Croix Island, the site of the first French settlement in North America (1604).
The property's 315 acres of upland, forest and marsh provide abundant opportunities for low-impact recreation, nature study and outdoor education. Visitors can enjoy more than 20 native tree species, nesting osprey, many migratory birds and a wide variety of indigenous mammals. The headland also has abundant marine life along a mile of shoreline, marked by a sandy beach and a 25-foot tidal range.
The protection of Devil's Head is complemented by the recent creation of a 330-acre preserve, Ganong Nature and Marine Park, on the estuary's facing shore in New Brunswick, Canada. Devil's Head is owned and managed by the City of Calais, under an agreement with the Maine Bureau of Parks & Lands that provides for its perpetual conservation and public use.
Closest Town
Calais
Activities
Bird & other wildlife watching, hiking, snowshoeing, cross-country skiing, dog walking (on leash), hunting, and kayaking
Region
Downeast Maine – Hancock & Washington
Acres
315
Directions from nearest town
DeLorme Maine Atlas and Gazetteer Map 37, C1-2. Devil's Head is on U.S. Route 1, six miles south of downtown Calais. Parking is available by the trailhead.