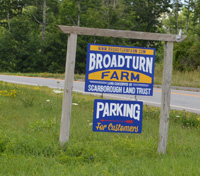 Broadturn Farm is a CSA (Community Supported Agriculture) farm that raises organic vegetables, cut flowers, strawberries, a small amount of poultry, and turkey, as well as natural lamb and pork. The property is in agricultural conservation with the Scarborough Land Conservation Trust (SLCT).
Formerly called the Keith Meserve Farm, the land is one of the largest farm properties in the Greater Portland area. It has 100 acres of open land and about 330 wooded acres The Meserve family resided in Scarborough for more than three centuries, and at the Meserve Farm for nearly 150 years. Family members sought to maintain this tradition but, following the death of the previous owner, estate taxes threatened to force sale of their ancestral farm. With grants from the Land for Maine's Future program, the Town of Scarborough, SLCT, and the USDA Farm and Ranch Land Protection Program, and the Trust for Public Land were able to help the family protect their cherished 360-acre farm, whose prime agricultural soils and scenic open space are a valuable community resource.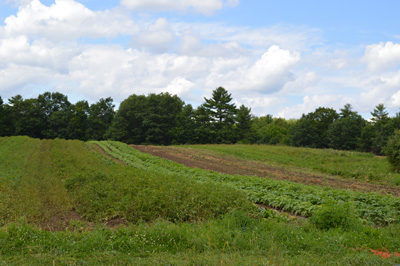 By purchasing the property, selling a conservation easement to the Maine Department of Agriculture, and providing land available for lease to other local farmers, the local land trust is able to keep highly productive farmland working and ensure that the property will remain in agricultural use for generations to come. More than half of the acreage on the farm has prime and statewide important farmland soil types. Most recently, the farm has produced hay primarily, but at one time it provided a diverse array of farm products–including apples, vegetables and dried beans, milk, poultry, eggs, firewood, timber and hay. Being 20 minutes from Portland and on the county line of populous York County, the farm could sell fresh produce through a growing number of local farmer's markets, a roadside stand or a community-supported agriculture (CSA) operation. SCLT will continue to work with other farmers to enhance the economic viability of the farm and encourage sustainable agricultural practices.
Please note: On private farms protected with Land for Maine's Future program support, public access is by landowner permission only. For more information on how to obtain landowner permission, contact Stephanie Gilbert at the Maine Department of Agriculture, Conservation and Forestry.
Closest Town West Scarborough
Activities
Farmstand, pick-your-own
Region Southern Maine – York, Cumberland
Acres 425
Directions from nearest town DeLorme Maine Atlas and Gazetteer Map 3, A-2. The farmstead is located in West Scarborough at the intersection of Broadturn Road and Hanson Road. From Dunstan Corner in Scarborough, take Broadturn Road west 4 miles (going right where the road forks after 1 mile) to the intersection with Hanson Road.