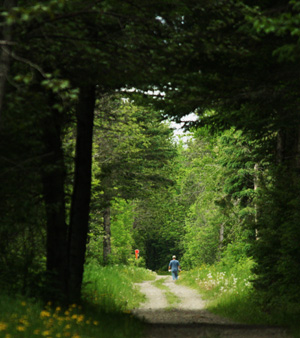 For half a century, freight and passenger cars ran a regular service through this rural region. The last freight service ended by 1960 and the rail lines were abandoned for decades. Community members saw the conversion of these rail beds into multi-use trails as a means to meet the recreational and fitness needs of local residents, lure outdoor enthusiasts who would contribute to the local economy, and preserve an important part of the region's history.
The Land for Maine's Future (LMF) program began its support for this ambitious regional project with a grant to help acquire the old Aroostook Valley line, which follows the rolling countryside for 18 miles, passing former potato fields, wetlands, cedar and spruce woods, and numerous bogs (including The Nature Conservancy's Woodland Bog Preserve, a Northern fen known for its rare plants). Trail users often spot wildlife along the way – including moose, muskrat and beaver along the more remote northern stretches.
The LMF Board later approved purchase of the Bangor & Aroostook Railroad right-of-way, a rail link that added 53 more miles of gently graded, gravel/dirt trails (one of which crosses Salmon Brook Lake Bog, a property protected with LMF funding). This portion of the trail is wider and more open than the original section.
The communities that first brought this project to the LMF program mobilized tremendous local resources to advance the effort. Americorps supplied a trail coordinator through the USDA's Maine Soil Conservation Program, and the Youth Community Action Project (governed by the Aroostook County Action Program) volunteered $400,000 in labor hours. Additional help came from local dog sledders, snowmobilers, and ATV enthusiasts who joined municipal parks and recreation staff and employees of the Northern Maine Development Commission in renovating the trail for public use – removing brush, adding rest stops, and installing gates and signs at road crossings. Many volunteers continue to help with ongoing trail management.
Closest Town
Caribou
Activities
Hiking, bird & other wildlife watching, ATV use, snowmobiling, cross-country skiing, snowshoeing, horseback riding, and mountain biking
Region
Northern Maine – Aroostook
Acres
890
Directions from nearest town
DeLorme Maine Atlas and Gazetteer, Map 64 A-4, A-5, B-4, B-5 and C-4; Map 65 B-1; Map 68 E-4 and E-5. There are trailheads and parking areas in Washburn, Caribou and Stockholm. To reach the trailhead in West Caribou, go west from Caribou 4 miles on Route 164. Just after crossing the Washburn town line, look on your right for the Aroostook Valley Trail sign and a gravel parking area.