Protecting the Nature of Maine
Maine. You love this place for a reason.
A spectacular coast. Millions of acres of forests. Hundreds of miles of rivers. A rich diversity of wildlife.
Maine's special qualities are increasingly rare in the world. They also are at risk.
Rising temperatures—the result of climate change—are disrupting natural systems. Century-old dams still block millions of sea-run fish from spawning in their native habitat, affecting both the watershed and the Gulf of Maine. Large-scale speculative development continues to put pressure on breathtaking natural areas like Moosehead Lake and the Fish River Chain of Lakes. Environmental protections—from Maine's Bottle Bill to the nation's Clean Air Act—are under constant assault by conservative think tanks, corporate lobbyists, and anti-environmental politicians in Maine and Washington, D.C.
How our society responds to these and other emerging challenges will determine what type of Maine we will pass on to future generations.
The Natural Resources Council of Maine works every day to protect the nature of Maine. We have been on the job since 1959. We combine science, the law, and the voices of 25,000 people like you to conserve habitat, protect water and air quality, and reduce climate-changing emissions.
We do not go it alone—far from it. The conservation community works together to achieve common goals. But NRCM has a level of legislative experience, policy expertise, and citizen engagement that is unmatched in the state. We have a unique place at the table when important decisions about Maine's environment are being made.
The threats may change, but the need to protect Maine does not.
We are very effective at what we do. We have an impressive track record. But now, we face increasingly complex policy decisions and political obstacles in Augusta and Washington, D.C., that affect Maine's environment.
We have launched a $6 million campaign to strengthen our legal and technical capabilities and to engage a new generation of environmental leaders.
Protecting the nature of Maine. It is what we do. Please join us.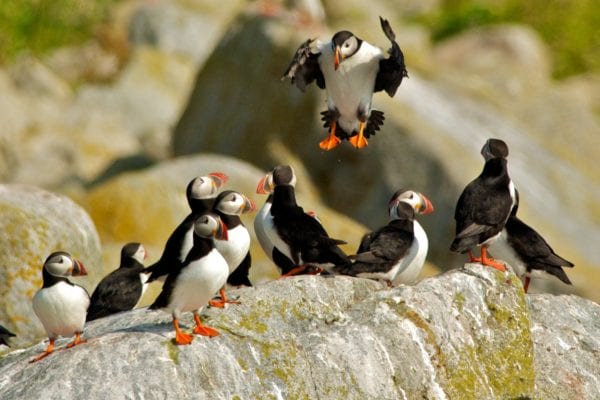 Patty Hager, President
Maria Gallace, Vice President
Bill Meserve, Treasurer
Karen Herold, Secretary
Emily Beck
Tom Carr
Charles Culbertson
Marcia Harrington
David Kallin
Dennis King
Norton Lamb
Peter Millard, MD
Sally Oldham
Kathryn Olmstead
Tony Owens, MD
Russ Pierce
Elizabeth Rettenmaier
Sarah Short
Ed Simmons
Stephanie Smith
Annie Winchester
Bonnie Wood
Campaign Steering Committee
Co-Chairs
Tony Owens, MD
Annie Winchester
Steering Committee
Lee Cotton
Maria Gallace
Patty Hager
Marcia Harrington
Adam Lee
Didi Manns
Bill Meserve
Russ Pierce
Kathy Remmel
Yemaya St. Clair
Sarah Short
Ed Simmons
Anna Marie Thron
Bonnie Wood
Lisa Pohlmann, CEO
Ways of Giving
Members may pledge up to three years or make an outright gift to the Protecting the Nature of Maine Campaign. NRCM's philanthropy team is happy to work with you and your financial advisor to determine how best to fulfill your pledge.
Gifts of Cash
These gifts include checks, credit card payments, bank transfers, or gifts from a donor-advised fund.
Gifts of Stock
Gifts of appreciated stock offer many tax advantages for donors. Donors may transfer shares electronically by providing their brokers with this information:
Charles Schwab & Co., DTC#0164
For further credit to the account of
Natural Resources Council of Maine, #8519-4666
NRCM's taxpayer ID number is 01-0270690
Charitable IRA Rollover (for donors 70.5 years old or older)
The Charitable IRA Rollover allows a donor who is 70.5 or older to make a direct transfer from an Individual Retirement Account to a charity of his or her choice. The gift counts toward the donor's Required Minimum Distribution. The donor does not pay income tax on the amount transferred to charity (nor does the donor receive a tax deduction for the gift).
Donors may give up to a total of $100,000 tax free during the tax year using the Charitable IRA Rollover.
Bequests and Life-Income Gifts
We are grateful to members who include NRCM in their estate plans. NRCM's philanthropy team is available to discuss how a donor can leave a legacy to NRCM in his or her will; designate NRCM as a beneficiary of an IRA or life insurance policy; or create a charitable gift annuity or charitable remainder trust to benefit the donor during his or her lifetime.
Real Estate—such as a second home or a camp in Maine
For more information or to make a gift, please call (207) 430-0108 to speak to a member of the Philanthropy Team.
Banner photo: Moose at Baxter State Park by Gerard Monteux
Puffin photo by Gerard Monteux