"Katahdin in all its glory, forever shall remain the mountain of the people of Maine." — Percival Baxter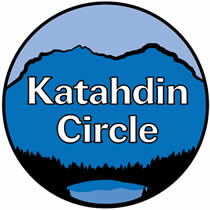 Through the Katahdin Circle, NRCM recognizes and thanks members who give $1,000 or more each year in support of our mission to protect, conserve, and restore Maine's environment, now and for future generations. Collectively, over 300 Katahdin Circle members contribute over $1 million each year to NRCM, a significant portion of our $2.7 million budget. NRCM depends on the generosity of people like you to provide cornerstone support of our advocacy and public education on behalf of Maine's environment. NRCM receives no government funding.
Please consider an annual gift of $1,000 or more to join the Katahdin Circle.
Katahdin Circle Benefits
As a KC member, you will receive special reports from the CEO, invitations to the Celebrating the Nature of Maine annual event, in-person updates, and more. NRCM will offer you the chance to experience what makes Maine special. With your permission, we will recognize your gifts in our annual report.
Other Ways to Give
Please contact us to find out how you can support our mission with a gift of stock, by including NRCM in your will, or making a gift now and in exchange receiving lifetime income.
Gifts to NRCM are tax deductible as allowed by law, and depending on the type of gift, you may enjoy other tax benefits as well.