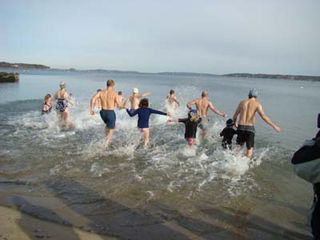 I had always planned to donate my body to science but jumping into the Atlantic Ocean on January 2nd was not how I envisioned it happening. There I stood in any case on the appointed day last week, ready to do NRCM's "Polar Plunge" to kick off our 50th anniversary year and raise money for our efforts to stop global warming.  Of course I had stayed up late the night before making a video tribute to myself so my baby daughter would have something to remember me by as she grew up, fatherless.
Well, that turned out to be unnecessary.  We all—14 brave swimmers—had a great time on the East End beach in Portland. The water was calm, the wind light, the beach largely free of snow and ice  The air temp was in the mid-20s that day, and the water temperature in Casco Bay was in the mid-40s—not that much worse than a swim at the height of summer.  The esprit d'corps was very high, due to the crowd of media and onlookers cheering us on, and the anticipation of serious pain. Our mettle was about to be tested! Would we pass the test?
Our fearless coach rounded us up for a photo-op, then lined us up along the water and counted down as the moment of noon ticked closer.  At that point, my mind became almost blank.  I sprinted into the water, at the head of the pack, and dove in as soon the water reached my knees.  It was cold, but not as cold as I thought it might be.  In a video of the event, you can see my arms flailing wildly as I jump out of the water. Weirdly, I don't remember doing that.  I scrambled to my feet and sprinted back to the beach, giving no thought to anyone to my left or right, or anything except getting out of the water.  My wife, un-orphaned daughter and best friend were waiting at the water's edge with many towels and high fives.
I'm looking forward to next year already. I will wear shoes, though. In the group photo, I am the only one still fully dressed, and one of the few in bare feet. Big mistake.  My toes went numb and hurt like mad.