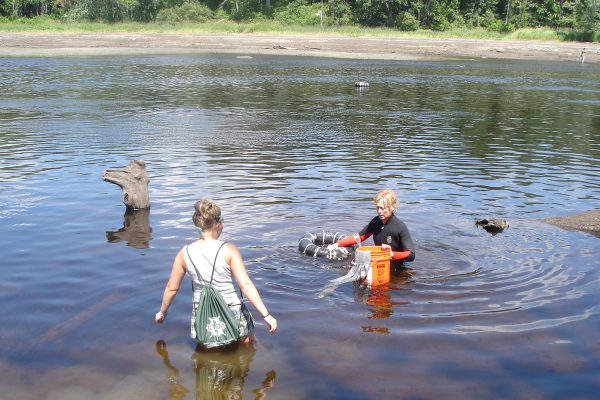 NRCM staff and members have had the opportunity to work with others to help relocate mussels in the Sebasticook River over the past two weeks.  Many of those who volunteered wanted to share their experiences with others and have done so below.  We hope that if you volunteered on this project as well that you will let us know about your experience "using your muscles to move mussels."

Michelle (NRCM summer intern): Mussel moving was a once-in-a-lifetime experience that combined environmental stewardship and a fun day at the river.  Overall, the experience was great, and I learned a lot about mussels that I absolutely never would have otherwise.

Molly (NRCM summer intern): It was really amazing that within a half hour, we were all experts at mussel identification and were able to get a lot done. The whole day was a perfect example of community members coming together to be responsible stewards for their environment, and we had a great time doing it!
Windy (NRCM receptionist) I truly felt honored to be part of this historical moment in our beautiful state. The removal of this dam has been a long time coming. We all learned a great deal about mussels and the process of identifying, safely transporting, and replanting them in the river bed. This was my first chance to actively take part in such a worthy cause, and I'm sure it won't be my last.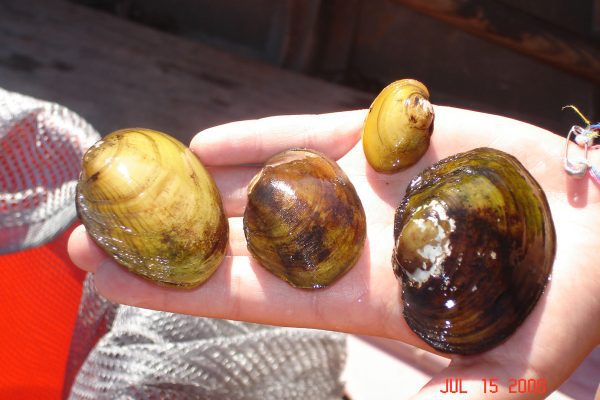 Leisa (NRCM advocacy assistant): Up to this point I have done very little volunteering.  This has mostly been due to making time in my busy schedule in a typical hectic life.  Having 2 kids, a husband, 1 full-time job, 1 part-time job and many pets, it is often hard to find time to get anything else in.  This has been very disappointing.
Just yesterday I decided I was going to try and volunteer.  I have decided to try new things and experience life like I haven't in the past.  I wonder, like many I am sure, if I could do what was being asked?  How hard would it be? Would I just get in the way or truly be a "great volunteer."
I answered all those questions when I finally stepped up to the plate and volunteered to help relocate mussels in the Sebasticook River this past Tuesday…
A few of us were volunteering for this for the first time so we were learning what needed to be done.  I picked right up on what I was looking for and worked quickly and diligently to gather the mussels in netted bags while keeping them submerged and out of harms way.  AHHHHHH what a great feeling!  The work wasn't too hard for me.  I got sucked into a great mud hole but made my way out; I woke with minimal sore muscles in the AM and I feel great with what I have accomplished!   I would do it again in a heartbeat!
I rode along shore in a boat as well as walked along the river's edge where the water is lowering. Sometimes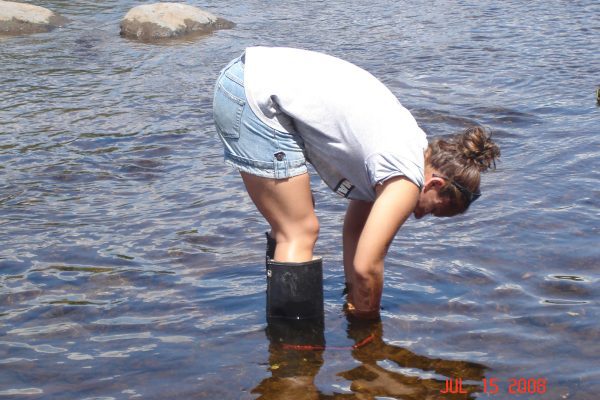 the water was just at my ankles and other times it was as high as my knees. I walked slowly looking for "special" mussels, which were very easy to spot. I would pick them out of the water and place them into a net that I kept submerged in the water.  I walked about a mile back and forth heading up the river collecting on the way.  There was no digging deep – it was simply pulling the other half of the body out of the mud or just off the bottom of the water.  I got to see so much wildlife while walking. There were HUGE bullfrogs, a large beaver, raccoon tracks, turtle tracks, dragonflies, tadpoles and a ton of fish.  Things I don't typically see when working in an office.
This experience – as well as the other volunteers I met that day – will be remembered for a lifetime!  To get to go out in the field and do something worthwhile to help Maine was a great feeling – I encourage everyone to give it a try.  All too often I am a behind-the-scenes administrative assistant, and this truly was amazing as well as FUN!
All photos by Leisa Hodgkins