The Brewer School's Community Maple Project has been busy over the last year. In the spring of 2016, we planted sugar maple saplings in our 10-acre forest. Currently our sugarbush is dominant and emerging is a class of red maple. In the long run it would be good to have some sugar maple to replace the short-lived red maples. Students enjoyed digging, planting, mulching, and watering, engaging for 42 student hours in this project initiative.
Last fall students worked on marking maple trees; with time, they will learn to differentiate between maples and other hardwoods in winter, but this helps to alleviate confusion in the spring and prevents tapping of other hardwood species. This process was extensive as we attempted to mark all maples in the 10-acre plot, taking some 36 hours to complete. Some of the trees marked are too small to tap currently, but give us a good idea of what we may have in years to come.
Another fall initiative was clearing out the sugarbush to make collection easier in the spring. Students removed downed woody debris in areas where collectors were likely to walk. They also removed brush and thinned saplings in certain areas to promote more vigorous growth of desired species. We have sought and were granted permission to remove a few mature Norway maples, as they are nonnative and outcompete native trees for resources, not to mention are prolific spreaders due to large seed dispersals. We intend to take action on this next fall.
The project director for the Brewer Schools Community Maple Project has been extremely busy since the beginning of school. The procurement of materials, erection of a mobile sugar shack, and outfitting of the program have led to many early mornings, late nights, and long days., with creation of the shack taking the bulk of the time. Even now, work is done late into the evening in order get all processing equipment online.
Students have spent time learning about proper tapping techniques. On February 28, students tapped their first 100 buckets. It was an exciting day as we were able to catch the tail-end of a good sap run. While our collection was minimal, students were able to see the sap run almost immediately. This only built their excitement for the experience. We heard, "hurry, hurry get me a bucket, it's running out fast" throughout the woods. The sound of drills drilling, hammers tapping, and children laughing were widely abundant on the bright, sunny day.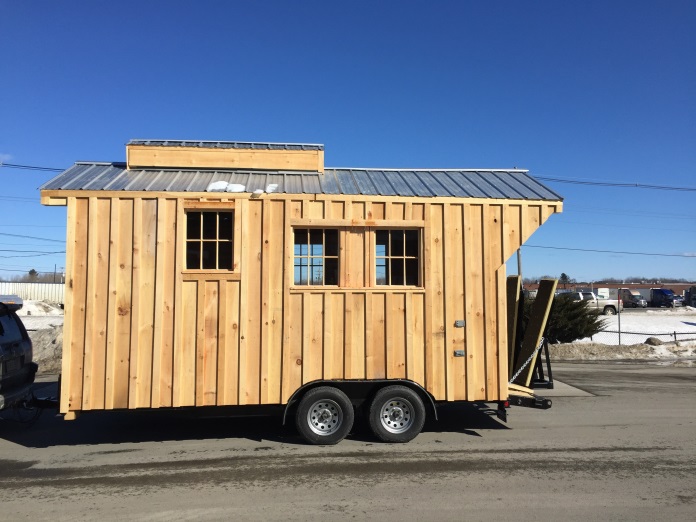 Looking forward, we hope to have our first boil in the next few days. Unfortunately, the weather has turned cold and appears it as though it is going to stay that way through the month. We are confident that when it turns warm again, we will be ready, or at least that is what we are telling ourselves.
—Guest post by Brewer Community School Science Teacher Nickolas Walters