In the town of St. George, Maine, students have been working alongside their town's Conservation Commission on a project to re-introduce alewives into their town marsh. The process requires collecting streamflow and water quality data as well as projects capturing oral narratives of community members who are invested in species restoration. Thus these students are gaining an incredibly important interdisciplinary and historical perspective as well as doing crucial conservation work. Check out their progress in the following blog post—thanks to everyone involved for your contributions to this important community and environmental project!
My class has taken on a project about one of my favorite topics so far, the alewives and how they haven't been returning to the marsh outside of our school.  This is one of my favorite topics because it is about the local wildlife, and how their bodies, breeding systems, and ecosystems work.
Recently, on a very cold day we went and looked at the structure of the culvert that runs under the road.  In the spring we are going to measure the flow of water through it to see if the water flow will help or hinder the alewives.  It's supposed to help the alewives return back to their breeding place, but the alewives haven't returned since the 1980s, despite restocking efforts of the State in recent years. A local elver fisherman told us that the last alewives disappeared like someone "turned off a switch."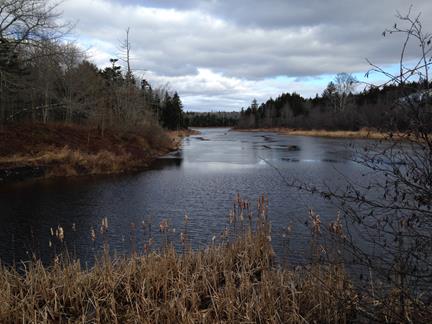 Some quotes after visiting the culvert – our first outing:
"I thought it was fun walking down and looking at the location of where we will be."
"It's going to be a cold project. I want to find out what that granite thing was."
"Today was really cold, but it was beautiful…I saw two minnows."
"I loved going down. It was cool to see the new culvert."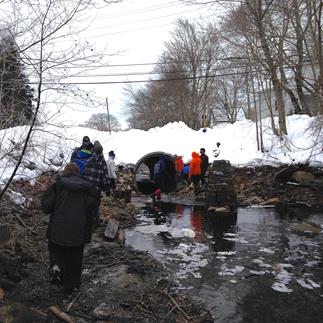 We've learned from a long-time community member that there had been very different water levels compared to what we see today.  It was higher in the winter when they used to cut ice and then it was drawn down to a stream so salt marsh hay could be grown for local cows. The water was controlled through a natural beaver dam and then a man-made portion with boards could be put in or taken out.  Both of them are gone today. The community member also sent us some historic photos so we could see a house that used to be up on a granite pillar right over the stream (that we saw and wondered about on our first visit to the culvert), an ice house, and a long two-story shed that was for boatbuilding along the tidal creek.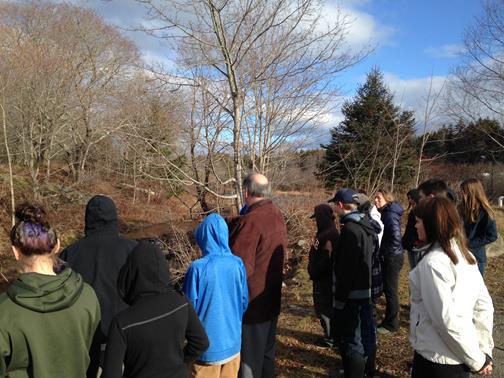 We also had another community member come into our class who actually caught some of the last alewives when they gathered on the tidal creek leading in to the marsh. There used to be pools that were rocked up and created places where the fish could rest before making the run up the stream. He told us how pickerel were introduced into the marsh in the 1980s, and we are wondering how they may have affected the alewives.
Next, we plan to get outside and measure the difference in the water level from the historic high levels to today's levels.  We also want to find out how many fish used to be harvested for lobster and halibut bait and estimate how much of the total population the harvest might have been. We want to re-establish the rock pools both below and above the culvert. Soon we will learn our procedure to measure the flow of water exiting the marsh and then practice it.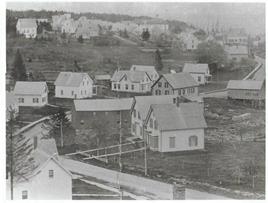 We have really enjoyed getting outside for class. I never knew some things are just straight up interesting. I'm so glad I had this chance to learn about the town my ancestors and I live in. I'm honored to be part of this project. Generations in the future will always remember our contribution to the town.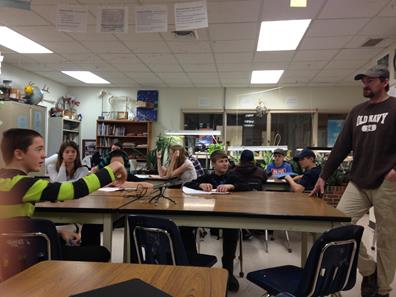 Please visit our classroom blog! https://alewives.edublogs.org/
– Guest post by 8th grader Josie Mathiau and Mrs. England