Last week, I had the pleasure of visiting the Palermo Consolidated School. Through the support of their community, staff, and students have created an impressive network of trails behind their school.
The project was supported by a mini-grant of $500 from NRCM, and its growth from there is an impressive story about a remarkable community. First, a land survey was donated by Falla & Sons Land Surveys, Inc. in Palermo. In less than a year's time, trails were blazed, bog bridges laid, map created, and kiosk erected.
Art teacher, Ms. Sparrow, spearheaded this project. Last August, 5th grade teacher Mr. Hamel walked the land with Sheepscot Wellspring Land Alliance board member, Buck O'Herin, and the plan for a network of four short loop trails took root. They completed cutting the trails in May of 2016.
From there, students, parents, and teachers stepped up to volunteer. Cedar logs for the bog bridges were donated by community member Jason. Tyler. Service learning Erskine High School students helped blaze the trails and lay the bog bridges. Mrs. Sparrow's garden club of eight core students burned the trail signs. Lumber for the kiosk was donated by Viking Lumber. Three students' fathers, Rob and Tim Turner and TJ Vinci, built the kiosk on a Saturday in May. The students have named trails and landmarks the Birch Loop, Panther Peak, Ant Hill, and Blossom Loop to name a few.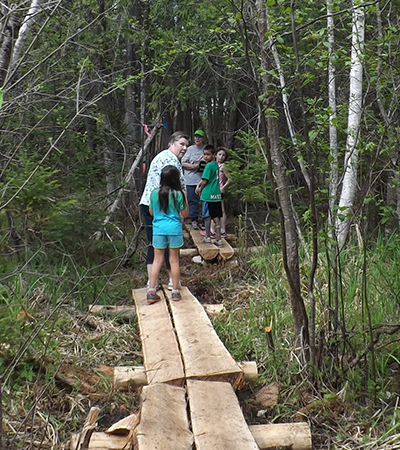 And, while work is ongoing, the students now have nature's playground at their fingertips. On our short trip alone, we spied a series of woodpecker holes, a mixture of hardwoods and softwoods, cool "brain mushrooms" and colonies of other fungus, an eastern garter snake, wild strawberries aplenty, moose scat, fern fiddleheads, and other wetland vegetation.
Teachers envision incorporating the nature trail into science, math, and art lesson plans and students will have the opportunity for hands-on learning right out their back door. The uses of this trail are limitless and the enthusiasm by students, teachers, and community members will ensure that these dreams are realized.
I'm honored to work for an organization that has a small part in this. Nature-immersion at a young age is a critical step in ensuring environmental protection for generations to come. Well done, Palermo Consolidated School. You are doing your part for nature and for future generations! Thank you.
—by Stacie Haines, NRCM Membership Director