On June 11, four students attended the Conservation Commission meeting at the Old Orchard Beach Town Hall to present the results of our Trail Map Project. Seventh grader Maya Judice and sixth graders Kailee Morin, Maddy Shaw, and Casey Zecchinelli discussed their learning about biodiversity, tree identification, vernal pools, and invasive species, as well as visiting eight trails and writing descriptions for the brochure. Kimbark Smith, chair of the Commission, told me afterwards, "The best part was the excitement, pride, and commitment the students showed during their presentations."
During the meeting, the team presented the draft of our trail map and brochure for the Commission's review and mini-posters on five of the most common invasive species we found on the trails made by fifth-graders for trail kiosks. Sixth grader Kailee wrote a notice about the Hemlock Woolly Adelgid (HWA), which has been found locally, that encourages trail visitors to check for HWA on hemlocks and to report any evidence they find.
On display behind the presenters were three large posters created by third grade group about "Birds of Milliken Mills." The posters featured life-size drawings of native birds, carefully traced and scientifically colored, along with information sheets containing a QR code that links to allaboutbirds.org so visitors can hear a recording of the bird's call. The Conservation Commission plans to display the posters at the Milliken Mills trail parking area.
The Trail Map Project was a great success. It involved 15 students directly, and extended to include 50 third graders who explored Milliken Mills South with sixth-grade tour guides. The final trail map brochure is being printed with additional funding from the Conservation Commission and will be distributed through venues including the Town Hall, Chamber of Commerce, local libraries, and local stores. Students are already planning follow up projects such as installing geocaches and adding trail markers.
I'll close this final post with reflections from students:
"I learned how to snowshoe, and also I learned about invasive species, for example, oriental bittersweet. During a trail walk I learned that nature isn't perfect. I learned about problems and made friends along the way." —Audrey
"I enjoyed learning about all of the species of animals and plants, how to identify invasive species, and going on the trails and being in the great outdoors. Thank you to the Natural Resources Council of Maine, who have helped us tremendously with our project!" —Charlotte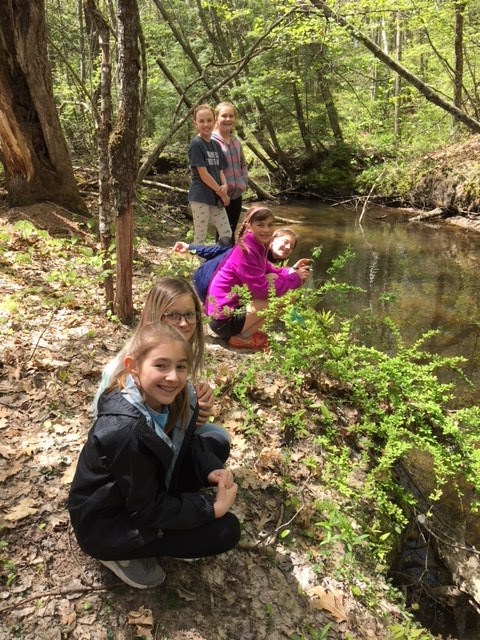 "I visited six trails, wrote about invasive species, wrote a biodiversity list at Ted Wells, and had binoculars at Manor Street. This project is/was awesome! I learned so many new things about nature!" —Evan
"The trail choices were amazing, we went to so many: Eastern trail connector, Guild Park, Blueberry Plains, etc. We all had a job on the trails and we all got to say what we recognized. The problems we faced we wrote down and we talked about them. Special thanks to the Natural Resources Council of Maine for giving us resources to make this possible!" —Izi
"I liked when we got to walk along the trails because one trail was a new experience, and they were all overall wonderful." —Savannah
"I liked going to trails and seeing new plants that I hadn't seen before and hearing birds. I liked seeing animal tracks in the mud."—Kailee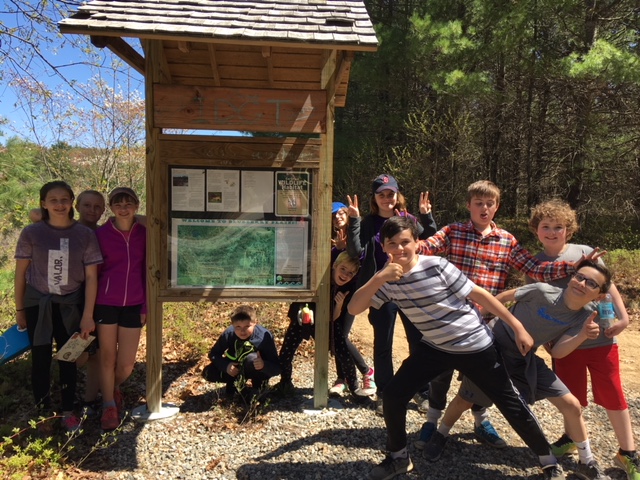 "I liked walking in the trails because some of them I haven't been on before so they were new to me." —Casey
"I liked the trail walks because, with a small group, you can hear more. You can hear birds, insects, and animals, and that is very cool." —Maddy
—by Cynthia Nye with quotes from students