Last week, my sixth-grade class went on an excellent field trip. We started off the day by breaking into six different groups. Three groups went to the Audubon in the morning, while the others met two guest speakers at two different stations at school. Then we swapped. Before we met the guest speakers we used Google Earth to map four landmarks and four test sites across Portland on a template given to us by our teachers. We read about "the caste system" and then watched a touching short film called "I am water" in which we met a young Indian boy that doesn't want people to feel discriminated against because of the caste they are born into.
After this, we met Doug Roncarati, the Stormwater Program Director of Portland. We learned from him that Portland is surrounded by water, and this is partially caused by too much impervious land (land that water cannot infiltrate) because all of the water is flowing to lower ground and essentially creating moats around Portland over time. He taught us about the three types of sewers that Portland has been using since way back in the 1870s (sewage, stormwater, and mixed). He then closed out by telling us ways we can help limit dual sewer overflow, mixing polluted water with clean water. These included not using pesticides and never throwing contaminants or items in storm drains. From all of this, it sounded like Portland is trying to use mitigation, more than adaptation.
Our second and last guest at King Middle School, Jenna Martyn Fisher, helped us perform a dissolved oxygen test, in which we added chemicals to tap water to create a chemical reaction. As we put in the first chemical, (iodide azide) the water turned brown, and as it began to settle, small brown chunks appeared. Shortly after, we added sulfuric acid and watched the iodide azide disappear before our very eyes. We then added a chemical that turned the solution black. After, we quickly added a starch indicator, which turned the mixture from black to clear in milliseconds. I look forward to doing more tests like this in the next few months.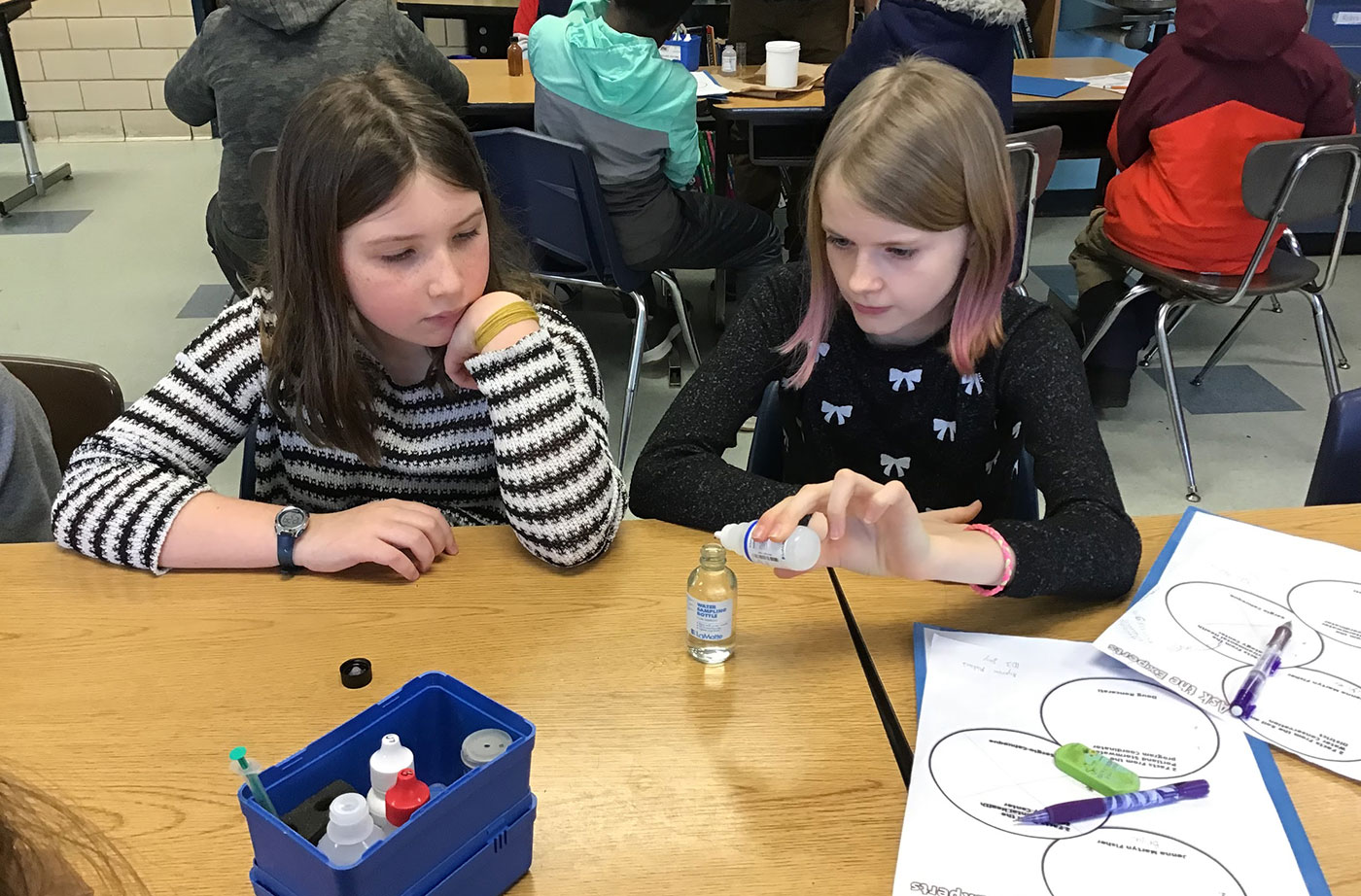 Next, we walked onto the bus to the radio playing and thus the journey to Falmouth began. When we got to Maine Audubon, the outside wasn't nearly what I had been expecting—it actually looked almost like a farm. However, when we got inside, it exceeded every expectation I could have possibly had!
I entered the building to discover beautiful architecture and thin sheets hanging from the ceiling with animals commonly found in Maine printed on them. We walked into a room where we would wait for about the next 10 minutes filled with realistic stuffed specimens that looked as if they were still alive. Next, we were led into a room with a great window on one side and an accurate model of a "watershed" on the other. We got straight to work on why water is important to the world and learned how water can get polluted during a rainstorm. Later, we entered a room that was full of sea life models. Its main attraction: a filtered tank with stage 2 salmon eggs being kept at 0º Celsius. I was very surprised these eggs were kept at such low temperatures.
For our second station, we exited the building and made our way over to a small pond. There, we took temperature readings, measured the depth of the ice, took a pH test, and got into the dirty work to see what lay at the bottom of the pond. Both of our temperature measurements gave us a temperature of 34º Fahrenheit, providing us with reliable data. After that, we reached our hands down into this close-to-freezing-water with rulers, to measure how thick the ice was. We found the ice was at least 12 inches deep, and probably even deeper than that. We then filled small bottles up with the pond water, which we would use later to run a pH test. Before we left the pond, we grabbed a small—yet long and effective—net, and plunged it down into the depths of the pond. What came back up? A disgusting, smelly muck and not much else except for one thing, which greatly surprised me and all of my groupmates: green stems! Somehow these plants were still surviving in freezing temperatures without photosynthesis because of the 12 inches of ice that blocked out the sun. This was, by far, the most surprising thing I saw all day. Soon after, we walked off the pond smarter and colder than we had walked on. We made our way into a small shed about 100 feet from the pond, where we used pH-testing-paper to test the pH level of the small pond. The range of pH readings is normally 0-14. The lower the number, the more acidic, whereas the higher the number, the more basic. This paper did not give us an exact reading, but it did come fairly close; all three groups got a reading of 6 or 7 pH level.
After this, we walked back inside the main building, and to a table that I had been curious about since the moment I walked into the building. This table had millions of broken up recycled plastic fragments, used to act like sand. It also had model trees, bridges, and my favorite—a turtle. On the far side of the table, there was a hydraulics tube, pumping water through the plastic to simulate a stream, anything from erosions to hurricanes. As the water turned on, we watched channels build right before us. We then learned about the effects of culverts (pipes running under roads that cross streams so rivers are not stopped) and why they affect a salmon's ability to get back upstream to lay eggs. How this happens is when the culverts transfer a stream under the road it increases the speed the water is flowing at, just like when you put your finger over a hose. Because of the narrowing, the water pressure rises, causing erosions that wouldn't normally be there, and making it much harder for salmon to swim upstream, especially through these pipes. It also affects turtles. Many species of turtles spend their whole life very close to the water, going up and down stream throughout the year. The turtles don't want to go through an 80-foot-long, dark culvert. So what do they do? They decide to cross the street causing thousands of turtle deaths. Just because the turtles were looking for a place to brumate (a turtle's hibernation).
This kickoff makes me very excited for what's to come in our new expedition: Water Whys. Water Whys is the name we decided to call our project this year that we are performing thanks to the Natural Resource Council of Maine's Engaging Middle School Students in Protecting the Nature of Maine Program grant! Our class is excited to continue with our project and soon share the results we find throughout our Water Whys project!
—By Henry Wilson, King Middle School