RSU 16, comprised of schools in Mechanic Falls, Minot and Poland, which recently made news for pushing back against a waste handling company trying to bill the schools for dumpster removal, is pushing ahead with their efforts to implement recycling and composting programs. RSU 16 schools are working to reduce waste and save money.
As with many schools and school districts throughout Maine, administrators at RSU 16 are always looking for ways to operate more cost effectively without affecting the quality of education and experience students receive. One very effective way to do that is by looking at the waste stream for each school, and district-wide. Nobody knows this better than the people who manage the waste contracts.
That's certainly the case for John Hawley, Director of Operations for the RSU. In fact, coming from the municipal side, he has a unique, perhaps broader, understanding of the high cost of waste streams. Here's how he characterized his initial interest in the issue.
"One of the three towns in our district had been exploring a composting option at its transfer station. Prior to my employment with the RSU, I was the municipal town manager in a community that operated a transfer station. Knowing that the tonnage of food waste added to the overall costs of our MSW rates, I wondered if it was the same for the school district. I also knew that there was some potential for revenue from certain recyclable items. In my position at the school district, I was seeing firsthand the amount of food waste and recyclable materials being thrown away and wondered how it was affecting our costs."
Food waste, like organic material in general, contains a lot of water. At eight pounds per gallon, this makes food waste heavy, relative to other items in the typical waste stream, both at the municipal and school level. And there is a lot of it in that waste stream! In fact, according to a 2011 Waste Characterization Study conducted by economics professors at the University of Maine more than 28%, by weight, of Maine trash is food waste! The study focused on municipalities. But the percentage may be higher in K-12 schools due to a broad range of issues from the concentrated population to misunderstandings about the rules of the National School Lunch Program.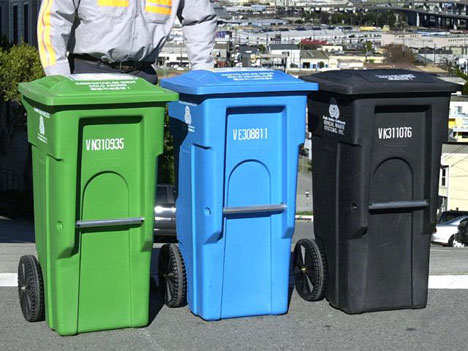 Mr. Hawley found his suspicions to be correct and realized that the RSU could save a lot of money and help the environment at the same time. According to Hawley, the efforts at RSU 16 are district wide, including three elementary schools, the middle school and high school. All schools have incorporated both recycling and composting programs. The administrative office recycles but, Mr. Hawley says the office does not generate enough waste for composting. Each school has separate containers for trash or recycling in every classroom and separate containers for food waste in the cafeterias.
Hawley says there were very few initial hurdles. It took a few weeks to get total buy-in to the program but with very little coaxing, it took off and is now automatic process for all of the schools. One big help was getting the students involved and tapping into the interest many students have in making a difference for the environment.
Some RSU 16 students attend The Ecology School every year. The Ecology School seeks to connect students to the environment through hands on learning experiences offered through field trips, day and residency programs. The Ecology School curriculum jumpstarted the change in behavior in RSU 16 schools and students were very interested in participating. We Compost It, the composting company with which the RSU partnered, came and spent time showing custodial staff and administrators how the program has been successful in other schools. Teachers were given materials to use in class and posters were put up all around the schools.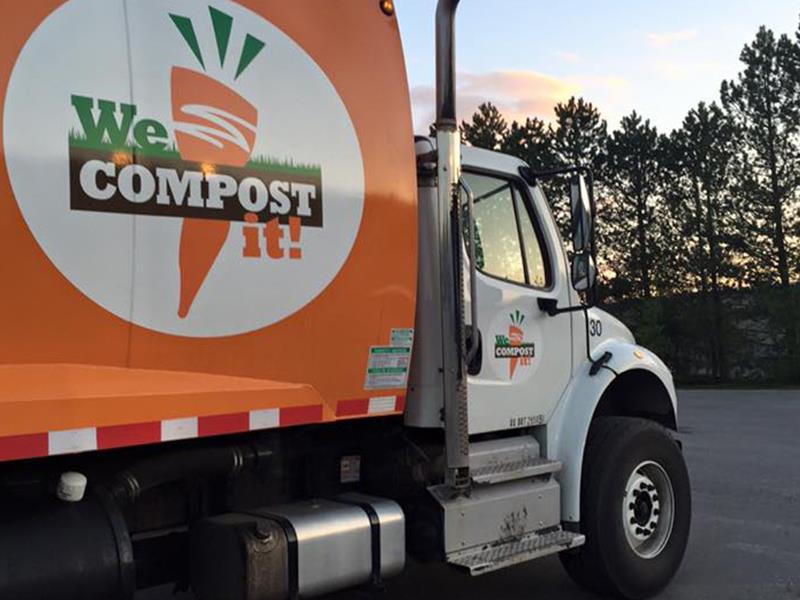 While the program is in its beginning stages and therefore has not generated a full year's data, projections are good. The district was spending just over $30,000 a year when everything was thrown into one bin. But, now that students and staff are separating recyclable and food scraps, the district estimates that cost will decrease to $20,750 – a big savings!
Additionally, We Compost It returns a yard of clean compost to the school each year. In other words, these schools have implemented a program with very little additional effort that saves money, helps protect Maine's environment in many ways, not the least of which reducing the strain on our already burdened landfills, and gets a rich compost which can be used to help beautify the school grounds. That's a win, win, win!
Our sustainability radar is always on, and we love to share. Do you have information about a great project helping to make Maine a more sustainable place to call home that you would like to see featured on NRCM's blog? Guest posts and alerts about interesting sustainability stories are always welcome! If it is good news for our environment and involves Maine or Mainers, it belongs in the spotlight. Please contact Sarah Nichols, NRCM Sustainable Maine Director at snichols@nrcm.org or (207) 430-0170.