I think the greatest investment I've made so far in the 25 years I've been alive is Stella Blue, a 2006 Chevy Express cargo van with questionable brakes that came into my life in 2019 and started my adventure into "van life." My partner Carter and I bought her together and spent a month outfitting her with solar panels, a fold-out bed, a mini-fridge and sink, and ample storage space for a variety of adventuring equipment including skis, bikes, and backpacking gear. She's served as a home for us several times this past year but, more importantly, a vessel to help us experience some of the incredible parks and conserved land throughout the US.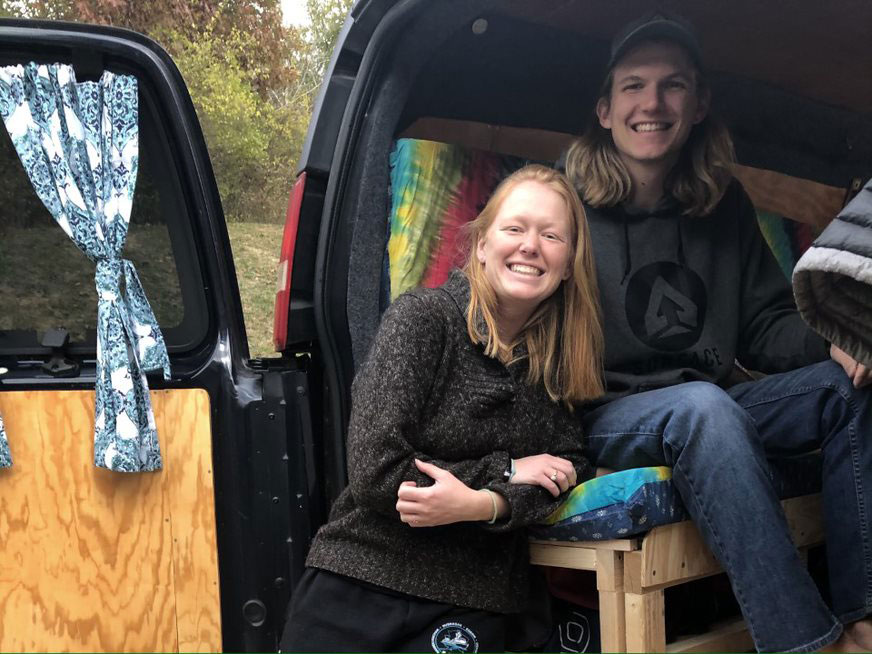 The most memorable trip we've taken so far in Stella Blue was a month-long excursion this past summer through occupied Wabanaki lands in the state of Maine. Although I'm originally from Massachusetts, I was privileged to spend my childhood summers living on Long Island in Casco Bay and often went camping at Acadia National Park. I went to Bates College and spent four years familiarizing myself with more of Maine's natural places, but never ventured too far north. After researching routes and installing some upgrades (including sewing screens for bug season in Maine), we hit the road in July.
Our route took us up the coast all the way to Lubec and through the northern reaches of Maine along the Canadian border. We then turned south through central Maine along parts of the Golden Road, and finally west to end up in Rangeley before heading back to Portland. Some of the most memorable parts of the trip included blueberry picking in Camden Hills State Park, backpacking along the Bold Coast at Cutler Coast Public Reserved Land, and searching for moose at Deboullie Public Reserved Lands, to no avail. We stumbled upon bushes dripping with raspberries while taking in views of the impressive Katahdin at Katahdin Woods and Waters National Monument. We swam in the pristine waters at the Debsconeag Lakes Wilderness Area and hiked the Bigelow ridge after spending a starry evening camping on the shores of Flagstaff Lake in the Bigelow Preserve.
Our journey lasted for a month, and during that time we traveled and camped at conserved lands for all but two nights (well, four if you count the two days we spent broken down in Machias thanks to Stella's unreliable brakes). Camping and access to parks and preserves was often free of charge, and we always found well-maintained trails and utilities. Along the way, we met other young folks on similar journeys, drawn to Maine by the variety and expanse of public lands.
My affection for Maine was deepened from this month-long trip and is part of the reason I decided to move to Portland this fall. Although I'm no longer living full-time in Stella, on my days off I often travel to hike, ski, or camp on the beautiful public lands of Maine. Keeping these places protected, open, and affordable for everyone is important to me and one of the reasons I chose to get involved with the Natural Resources Council of Maine (NRCM). NRCM's actions to conserve and protect Maine as well as their leadership on the Land for Maine's Future (LMF) program continues to be essential to providing the funding needed to establish and maintain Maine's public lands.
This year, NRCM is advocating in the State Legislature for a bond to invest in Maine's State Park system and the LMF program. The bond would fund infrastructure improvements at Maine's State Parks, which are sorely needed. It would also help conserve special places in Maine and support working waterfronts, farmlands, and forests.
I'm grateful to have grown up with the natural wonders of Maine within my reach. As a result, I developed a strong appreciation for the environment from an early age. Keeping these places accessible and encouraging visitors from all over to take advantage of Maine's outdoor recreation is important to building a generation of young leaders who are devoted to protecting the environment. I intend to be part of the movement to preserve and restore public lands and am looking forward to learning more in my time interning at NRCM.
I plan to revisit many of the places I traveled to in Stella Blue this past summer and add more Maine destinations to my itinerary. One day, I hope to share the stories of these adventures with a younger generation who will find their way to the same beautiful places, and hopefully many more. In the meantime, if you see a big blue Chevy Express van littered with stickers camped somewhere in the great state of Maine, stop by and say hi!
—Becca Ferguson, NRCM intern