The holidays are a time full of tradition, nostalgia, friends, and family….and unfortunately a lot of waste.
But it doesn't have to be that way. You can find ways to lower your impact and even support our environment by creating new traditions.
Here are some dos and don'ts for an environmentally friendly holiday season.
DO: Think outside the (wrapping paper) box

With a little creativity you can "wrap-up" some new traditions that are much more environmentally friendly.
Here are some ways you can avoid wrapping paper:
Use fun and festive towels, clothes, or clothing items.
If your family is like mine, we have endless scarves hanging around the house to keep us cozy during winter. Those are perfect, ready-made wrapping paper wannabes.
Copy cat some of the other environmentally friendly storage methods you use, like reusable Ziplock bags and bee's wrap.
Make use of parchment paper (and then reuse it for holiday baking).
Make wrapping paper a family art project. Use recycled paper or brown paper bags to have everyone create wrapping paper art that you use to wrap gifts.
Growing up some of my best holiday memories were scavenger hunts my parents did for me to search for my gifts. This is a super fun tradition that allows you to eliminate wrapping altogether.
DO: Focus on Local
From food to gifts to experiences…Maine is bursting at the seams with local opportunities to make your holidays great. So focus local, and support those businesses, farmers, and organizations that prioritize sustainable and environmentally friendly operations. Not only does it support our environment, it supports our community.
DO: Upcycle, Donate, or Recycle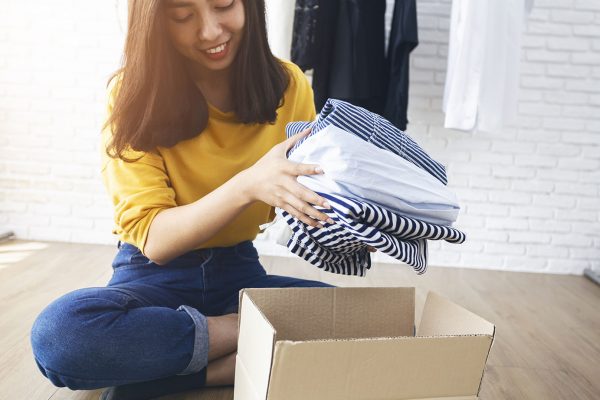 As new stuff comes in, old stuff goes out. But it shouldn't be going to a landfill. When I'm looking at clearing out old stuff I look to: upcycle, donate, or recycle (and in that order of priority).
Upcycle: Upcycling is essentially taking something old and giving it new life. This is a fun way to reimagine things you don't need anymore and can give you a ton of fun DIY projects. I love Upcycle That for ideas and tutorials. Heck, you can even upcycle something to gift later. OR if you don't have the time or interest to upcycle something, list it for free in one of the many Maine-based "Garage Sale" groups on Facebook.
Donate: There are so many Maine-based charities in need of a variety of items. Support your neighbors and donate those things you no longer need to those who do.
Recycle: If you can't upcycle or donate, it's time to look at recycling, but this should be a last resort. While so much better than ending up in the trash, recycling doesn't just make everything magically disappear. That said, some things are best recycled, and when that's the case, please make sure you are actually recycling things that are recyclable.

EcoMaine has a fantastic Recyclopedia app that allows you to type in what you want to recycle and find out if it actually is recyclable.
Checkout the Natural Resources Council of Maine's Recycling Stewardship page for other tips and how to participate in extended producer responsibility programs.
DO: Support Businesses that Support the Environment
Want to know the best way to encourage businesses big and small to adopt more sustainable practices, vote with your dollars. When buying gifts try to buy the majority of items from organizations that have values that align with your own.
DO: Rethink Holiday Cards
Instead of traditional holiday cards, send e-cards or a phone-made family video out to your friends and family. These can be a ton more fun and, in the case of a video, allow you to really send a special message that won't just get thrown out with the trash.
DO: Be Inspired
Find some inspiration from a few NRCM Rising team members' favorite sustainable holiday tips:
"Wrap in things you already have around the house! Small things can go in toilet paper or paper towel rolls from the recycling bin, newspapers for wrapping, or visit any local retail store to see if they have big pieces of paper they plan to throw away (lots get shipped with paper wrapping/stuffing)." – Dana Wilfhart
"We send our holiday cards via email on the Solstice; to avoid paper and shipping, waste wrap gifts in fabric that we reuse or already used brown paper bags that we can use as kindling in the wood stove; and give our Christmas tree to the goats down the road when we take down decorations." -Ari O'Neill
"We try to focus on meaning over quantity when it comes to gift giving and try to buy fewer, more meaningful gifts." -Heather Drake
"My wife and I really try to focus on buying local to avoid extra packaging and shipping costs." -Daniel Bartup
DON'T: Have an All or Nothing Attitude
Creating more sustainable choices is about making small, consistent habit changes, not about throwing everything you know out the window. There might be some traditions that are very special to you but may not be the best for the environment. And that's ok. Look at how you can balance them out with other choices that lower your impact. Small changes can make a big difference.
And don't forget, using your voice to talk about the issues important to Maine's natural resources is a gift that keeps giving to our environment (and doesn't require any wrapping paper). So make sure to learn more about the issues that matter most to Maine on the Natural Resources Council of Maine website and how you can take action.
—Laura Petrolino, NRCM Rising Leadership Team