It's been an exhausting year. I don't need to recap it all for you, but by the end of October I found myself glued to ever-present screens almost every waking hour and being bombarded by anger, sadness, and all-around bad news. This isn't healthy. I needed to get away. A restorative few days far from society and connectivity was the best way to reset my mind.
Three of us set out for the Moosehead Lake and the Hundred Mile Wilderness region, with our eyes set on bike-packing from Monson into the vast forest of northern Maine. As we left town on paved roads, bikes weighed down with almost a week's worth of supplies for cold-weather camping, we turned off our phones and waved goodbye to push notifications and political ads.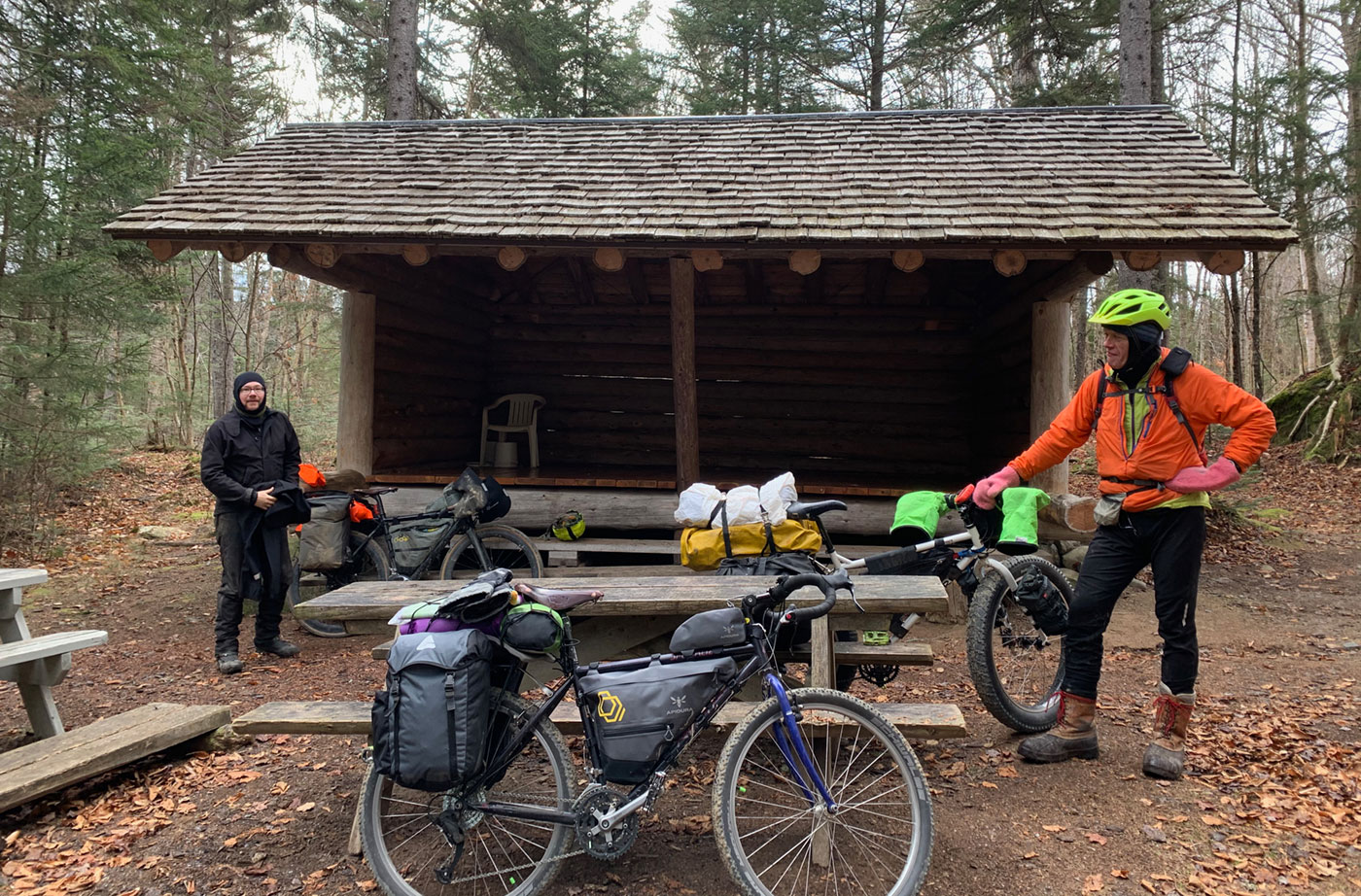 Pretty soon we found our way onto gravel roads through working forests and conservation lands. Much of the land near Moosehead Lake is privately owned by logging companies, but open to public access for recreation, which allowed us to share the roads with hunters and other sightseers. But most of our itinerary put us on land owned by the Appalachian Mountain Club, or by the State of Maine, and open to public access more explicitly for recreation.
Frigid November weather isn't what most people think of as ideal camping weather, but with some practice it becomes a potent tonic for many of the ills of modern society. While it's been a few centuries since Thoreau wrote of going to the woods to live deliberately, some aspects of even a short trip away from society mirror his experiences. The effort required to stay warm and comfortable in camp, especially in the pitch dark of a twelve-hour night, doesn't leave much time for worrying about the world beyond.
As soon as we arrived in camp on the first evening, we busied ourselves with chores and preparing for the cold night ahead. Fetching water from the nearby pond, unpacking our tents and sleeping bags, changing into warmer clothing as our heartbeats slowed to a relaxed pace, cranking on the camp stove for hot drinks and dinner. The simplicity of life in camp is ingrained in our blood as Mainers, whatever definition one uses for "camp." The common themes, like getting away to the woods, leaving the busy world behind, listening to the nighttime sounds, aren't so different from what they might have been a hundred years ago. And, for us, going to bed early because why not?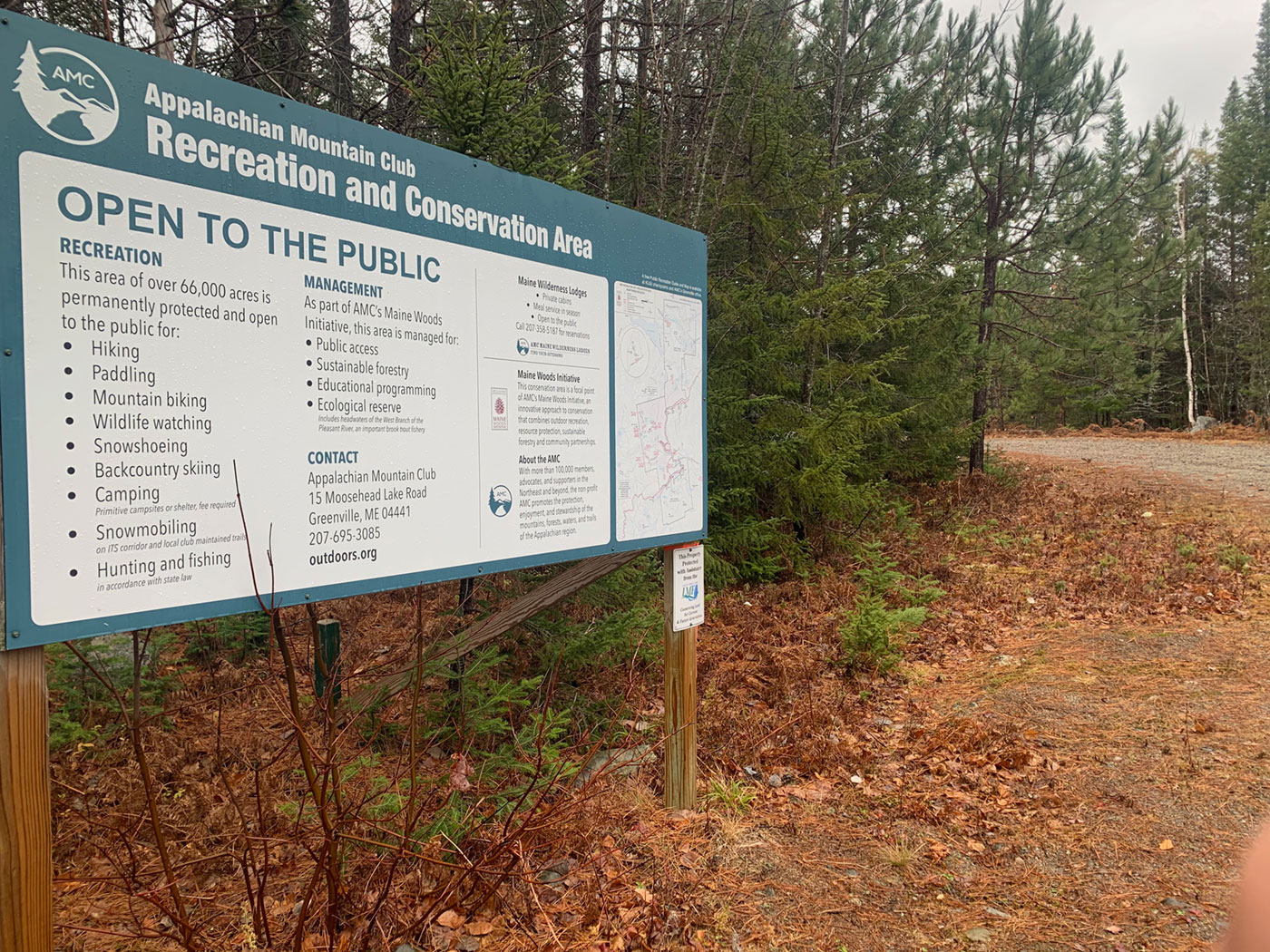 On the second day we headed north through the valley of the Pleasant River to the Roach Ponds before turning east and entering the Maine Public Reserved Land of Nahmakanta Lake. The entire area, a mix of wet lowlands and rolling mountains, has been crisscrossed by logging roads for decades. Dirt roads would have been a drag for walking, especially with the drizzle and fog we found ourselves in that day, but I found the scenery to be beautiful and varied as we traversed nearly 40 miles without seeing a single human along the way. The long hills bathed in heavy mist, the ponds and marshes in between, and the occasional lakeshore provided seemingly endless opportunities to explore. We even had the experience of watching a bull moose wander along the roads ahead of us, silently pondering what these strange little wheeled creatures were doing in its home.
As we wound our way north, we started to see some familiar and welcoming signs. "Open To The Public" is always a good sign. Below that, "This property protected with assistance from the Land for Maine's Future." Those are signs that bring me some joy, since I know LMF is so unique to Maine and so successful in guaranteeing access to our great outdoors for everyone. I've seen those little LMF signs in every corner of the state, reminding me how widespread the appreciation for our state's open spaces is.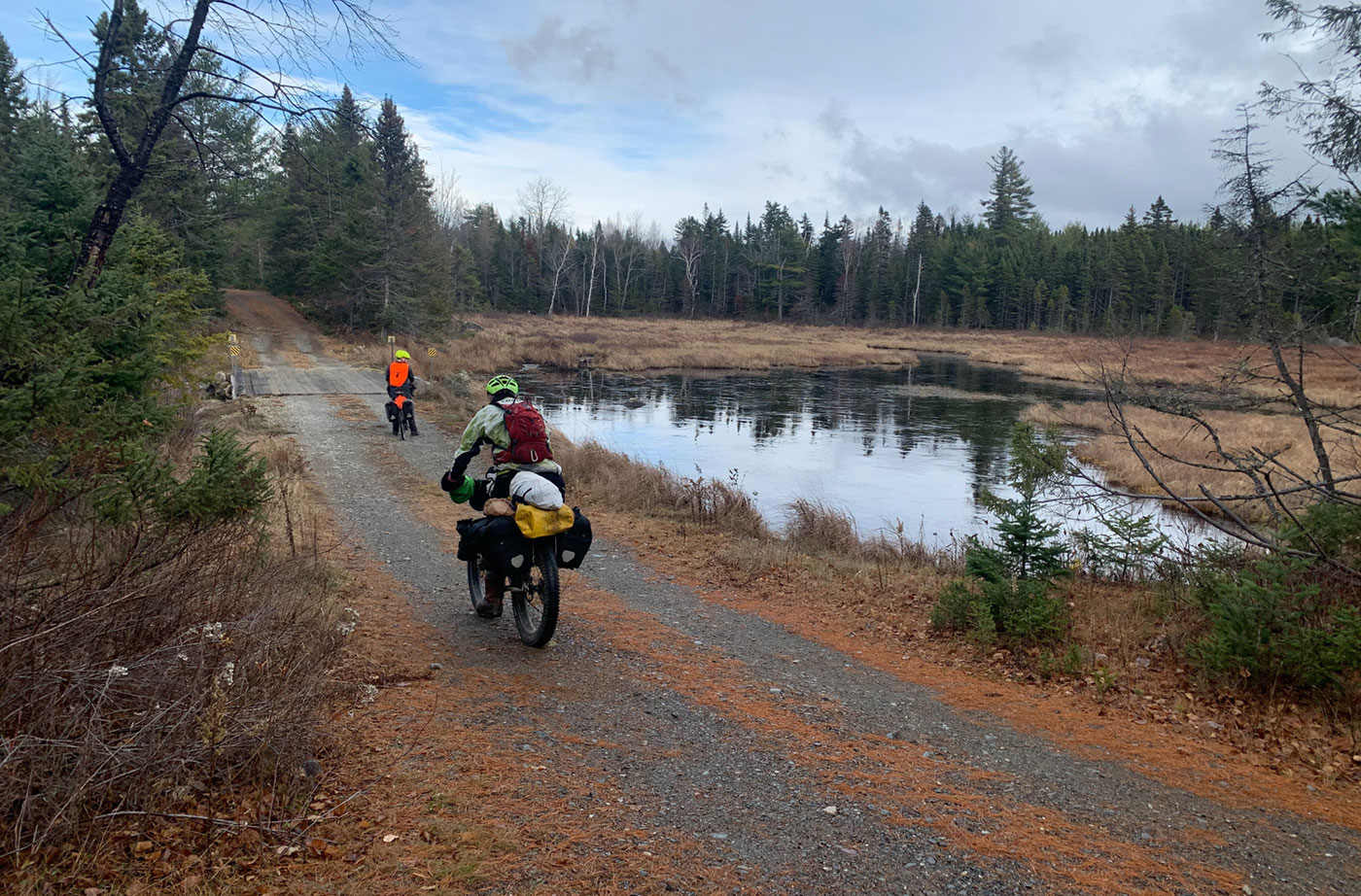 We stayed in the Nahmakanta Reserve for two nights, waiting out some early season snow that made travel back to Monson even more difficult. Maybe next time we do this, we discussed, we should aim for a little earlier in the season to avoid the bitter cold nights and the potential for biking on snow. But for the moment, this trip was only exceeding expectations. The forest was quiet and welcoming, even with the bitter cold and the difficult travel. But for all the extra effort, we had the greatest reward: long nights of sleeping in the north woods, cozy in our sleeping bags and without a care in the world. That's a welcome change of pace I'll take any day.
—Ryan Linn, NRCM Rising Leadership Team member