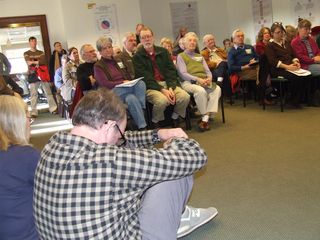 Today, it was abundantly clear: Maine people care about the North Woods.
For NRCM staffers, our day started with a press conference complete with cameramen, photographers, journalists, and friends and members of NRCM tuning in to the words of five eloquent spokespeople sharing their unique perspectives and passion for Maine's North Woods. They came to speak in opposition to LD 1798, a bill to implement the recommendations put forth by the LURC Reform Commission. These spokespeople included:
Gordon Mott, a forester and longtime resident of Lakeville Plantation;
Gary McGrane, a Franklin County Commissioner for 23 years;
Howard Trotzky, former Republican Senator from Bangor;
Horace "Hoddy" Hildreth Jr., chairman of Diversified Communications, a former Republican State Senator and candidate for Congress, and son of the late Gov. Horace Hildreth; and
Norton "Buzz" Lamb, vice president of NRCM's Board of Directors and a retired businessman who has spent time in the Unorganized Territories (UT) for 68 years, owns four parcels in two UT counties, manages several hundred acres of forestland, and whose family has owned and farmed land in Maine for almost 300 years.
Each of them stated their concerns about the LURC reform legislation, giving voice to problems that are plaguing the proposal and could lead to scattered development and fragmentation of the North Woods, spoiling forever this treasured landscape. They spoke of the risks associated with allowing county commissioners to appoint themselves as LURC commissioners, without experience or review, and about the county opt-out that would, essentially, abolish LURC one county at a time.  You can read their press release here. We hope that Maine people will hear these concerns in the media and be moved to join us in speaking out to urge their legislators not to vote in favor of this bill without major improvements.
From there, we returned to NRCM headquarters, where we were joined by many members and friends, who heard first-hand from NRCM's North Woods project director Cathy Johnson about the proposal. Following lunch we marched across the street to the top floor of the State House, no doubt making an impression on the committee members, with our "Keep LURC Strong" sticker badges and strength in numbers.
So many people showed up that the overflow room was packed, standing (and sitting!) room only, with many seated on the floor. Most were there to show their passion for Maine's North Woods and to urge its protection.
Back in the hearing room, Cathy Johnson and I sat through many hours of testimony before giving NRCM's, which you can read here.
So, after long and busy day, I want to say thank you. This is for all of you who took time out of your busy schedules to attend this hearing—some of you, I know, traveled great distances. Others of you, I know, were with us in spirit, and we truly appreciate this. To stay informed of this issue as it moves along this legislative session, be sure to sign up for our Action Network at www.nrcm.org. Thank you for caring so deeply about Maine's environment.
—Lisa Pohlmann