NRCM's Todd Martin and Abby King have a friendly rivalry going related to their participation in our annual Polar Dip and Dash.
There is an ongoing debate at NRCM's office as to who will be the most "Bold in the Cold" at our annual NRCM Polar Dip & Dash on Monday, December 31st in Portland. We have some folks who think jumping into the icy Atlantic Ocean is more daring, while others think running or walking a 5K in frigid weather is the bolder move. Read both sides of the debate here, and let us know what you think! And, show us that you can be the bravest of them all by participating as a walker/runner AND ocean plunger at this year's Dip & Dash!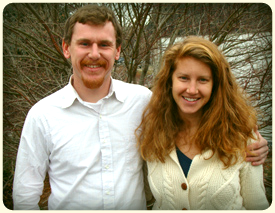 Dippers Are Better Than Dashers
by Todd Martin, NRCM Grassroots Outreach Coordinator
Global climate change has become the defining issue of my generation. As scientific evidence has mounted over the past few decades, it is clear that human activity is dramatically altering the Earth's atmosphere and climate. By 2050, scientists predict that Maine's climate will be similar to today's climate in Washington D.C.! This has serious implications for Maine environment, economy, and future generations. We need to take immediate action to address climate change!
That's why I am proud to be dipping in to the frigid Atlantic Ocean on December 31st at the East End Beach in Portland as part of the NRCM Polar Dip and Dash!
In its 5th year, the annual NRCM Polar Dip and Dash is a great opportunity to bolster NRCM's work to combat climate change by advocating for energy efficiency, reducing dependence on oil, and supporting alternative energy. Participants have the option to either "dash" a 5k, "dip" in to the ocean, or both!
I will only be "dipping" in to the ocean. I think "dippers" are better than "dashers" for a couple of reasons. First, I believe taking the plunge in to the chilly ocean is more of a sacrifice than simply running a 5k. Second, I feel that taking the plunge is a chilling reminder that ocean levels are rising and the ocean is getting warmer and more acidic. As we continue to dump billions of tons of CO2 in to the atmosphere each year, the Earth's glaciers will continue to melt at an unprecedented rate and the Earth's oceans will continue to become more acidic. Sea-level rise and ocean acidification pose serious threats, particularly to Maine, a state with the most coastline in the Northeast and with iconic industries that rely on the sea, namely fishing and lobstering. Finally, I will be "dipping" to swim in solidarity with polar bears and other critters whose Arctic habitat is shrinking.
Please join me in supporting the work of the Natural Resources Council of Maine to combat climate change by "dipping" in to the Atlantic Ocean on Monday, December 31st at East End Beach in Portland. Details and registration information can be found on our website. I hope to see you there!
-Todd
Why Dashers are Better Than Dippers
by Abby King, NRCM Toxics Policy Advocate
I'm glad that Todd and many others will be jumping into the frigid Atlantic Ocean in a month. But I'm also glad to be showing my support for NRCM by dashing! Dippers are cool, but Dashers rule! By running I'll be generating my own body heat. As opposed to the Dippers, who will only be making themselves colder and will need artificial heat to make themselves warm again. By running, I'm showing off the incredible energy efficiency of the human body! If only our mechanical and electrical energy systems we use on the roads and in buildings were as efficient as all of the Dashers will be on Dec 31st! So next month, I'll run to show my support for NRCM's work to support energy efficiency projects all across Maine.
The human body is actually a very efficient engine – more efficient at turning chemical energy (food) into kinetic energy (running/motion) than your car's mechanical engine, for example.  The average internal combustion engine operates at about 15% efficiency – meaning that 85% of the energy you put into the system in the form of gasoline ends up as waste heat or some other form of energy that doesn't help propel your car forward. But when I run NRCM's Polar Dip & Dash this year, my body will be turning energy from food and respiration into forward motion at about a 25% efficiency rate. Plus, the "waste" heat I create through that process will be helping to keep me warm on a cold winter day. I don't think the Dippers can claim to be so efficient!
So – this year, I'm looking forward to dashing my way toward victory for NRCM's energy project. Hope to see you there!
-Abby