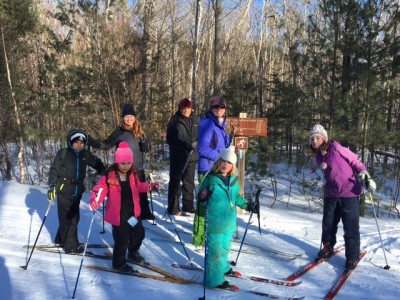 Despite a nearly snowless winter, I took advantage of a small window of opportunity to ski the Katahdin Woods and Water Recreation Areas (KWW) with family and friends last week. In fact, our window was so tight, we skied well-groomed trails one day and waded through a massive rain puddle the next.
Under any conditions, however, the beauty of this land cannot be denied.
This land currently belongs to Elliotsville Plantation, Inc. (EPI), a nonprofit organization created by Roxanne Quimby, the entrepreneur who founded Burt's Bees, and her family. The land includes nearly 90,000 acres just east of Baxter State Park featuring three magnificent rivers, including a long stretch of the beautiful East Branch of the Penobscot, and stunning views of Mt. Katahdin. Elliotsville Plantation, Inc. would like to donate this land to the National Park Service.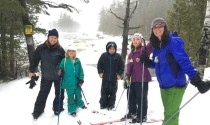 NRCM shares EPI's vision, and we are working with the foundation to make it a reality. It is a positive step forward for wildlife, the ecology of a pristine region, and the people of Maine.
The land west of the East Branch of the Penobscot River, proposed to become a National Park, will be open for hiking, paddling, wildlife watching, bicycling, cross-country skiing, snowshoeing, and other activities normally found in national parks. The land east of the river will be a National Recreation Area available for all of those activities plus hunting and snowmobiling.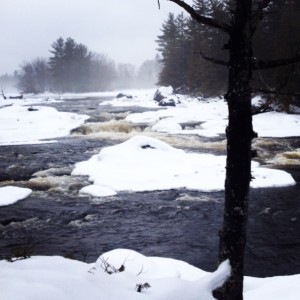 Even now, the land is open to explore. The rushing rapids, boulders deposited by glaciers, and serenity of forest cover draping over trails is an extraordinary experience.
This immense tract of land that could be forever protected is home to moose, bear, lynx, and many bird species. During our three-day trip, we saw wildlife tracks in the snow and scat along the way, indicating the life that this land supports in the harshest conditions.
Although not the only answer to an economically depressed part of our great state, a National Park would be one answer by encouraging eco-tourism. While there, we stayed at beautiful Mt. Chase Lodge. It features family-style dining where snowmobilers and skiers have the chance to compare notes on snow conditions and routes mapped across the region. All visitors to Mt. Chase Lodge rave about the food. And, the cozy fireplace would have lulled us inside for longer if not for the trails that were calling our names. Like other visitors to the region, we frequented the local markets, restaurants, and gas stations. Just a very small glimpse at how the local economy would benefit from visitors to a National Park.
NRCM and Katahdin Woods and Waters is so eager to share this experience with you that we have teamed up (along with Mt. Chase Lodge) to raffle a three-day stay that includes meals, guide service, and lodging. See the full package and buy a $30 raffle ticket (vacation package valued at over $450).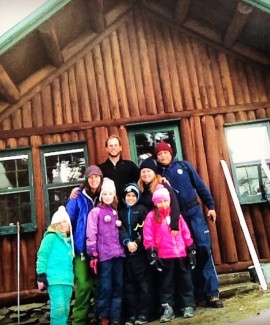 During our three days, we chose to stay at Haskell Hut on the proposed National Park lands. It was an over-five-mile ski in on groomed trails and very doable for all abilities. As the kids grow, we'll be back for a stay at Big Spring Brook Hut, farther in with more challenging terrain to navigate. (The raffle winner has the choice of either cabin.)
Whether through the raffle or on your own, I hope that you explore these lands via skis, bike, or foot. I also hope that you will contact Maine's Congressional delegation to encourage them to get behind this plan that has so much potential for the people, water, wildlife, and forests that we cherish.
—Stacie Haines, NRCM Membership Director