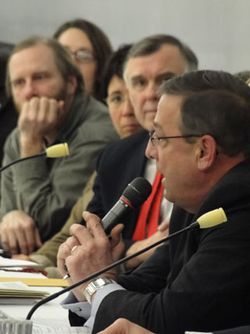 More than 500 citizens from across the state poured into the Augusta Civic Center on January 20th to participate in the first public meeting with Governor LePage about the importance of environmental protection to Maine's economic and public health. A panel of 28 businesses, sportsmen, health professionals, religious leaders, and youth discussed how the laws that have cleaned up once heavily polluted rivers, have kept Maine's woods and fish stocks intact, have kept our landscapes protected and relatively pristine, and have cleaned up our air — and saved us money — by conserving energy, are necessary and welcome to those who have chosen to set up businesses in Maine, have worked the land for generations, or visit here to enjoy our quality of life.
NRCM is proud to have sponsored this event with numerous partner organizations and to have seen so many members from the NRCM family across the state in attendance. We have shown once again that the people of Maine are deeply committed to environmental protections and are willing to stand up and fight for them.
Here are some of the remarks from the panelists, who we thank so much for participating in this event:
William Bennett, Pres. & CEO, of Oakhurst: "After all the cows that produce Oakhurst milk literally eat drink and breathe the Maine environment so it's in everyone's best interest to keep Maine's environment clean, safe and healthy."
Unity College student Deirdre Birbeck also had a chance to speak directly to the Governor. "It seems to me that my generation's future jobs will depend on careful stewarding of our natural resources."
"If our coastal waters are not clean, it is impossible for all commercial fishermen, not just clammers, to market the Maine brand," said Chad Coffin, president of the Maine Clammers Association.
"Regulations aren't perfect, and some may need fixing," said Harry Dwyer, a licensed forester and logger who owns Ghost Dance Forestry in Fayette. "But regulations are not the enemy. They are an important tool" to protect resources for future generations.
Horace "Hoddy" Hildreth, a former Republican state senator who is chairman of Diversified Communications, a company with 200 employees, said many of the laws protecting Maine's air, land and water were enacted by Republican-controlled legislatures responding to the industrial abuses of the 1960s and 1970s.
"Their implementation has from time to time caused frustration and even outrage," Hildreth said. "But I submit to you that working on the regulations to make sure they are responsive to the plain intent of the statutes is a better way to go than gutting or repealing the laws."
Corky Ellis, founder and Chairman of Kepware, a software company in Portland, says they could have moved to North Carolina or Texas with lower taxes and minimal environmental regulations, but they wanted to live in Maine. "Please bear in mind that many businesses like ours are here in Maine precisely because of the protected beauty and the conservation efforts of the past."
And MPBN's news story quoted Ernie Hilton, former chair of the Maine Board of Environmental Protection:
Ernie Hilton is a lifelong Republican, an attorney and civil engineer from Madison who previously chaired Maine's Board of Environmental Protection, and whose wife chairs the Land Use Regulation Commission, or LURC.
Hilton says he's worried Maine's quality of place may be threatened as the new administration and Legislature look to relax environmental permitting and reuglations and do away with agencies such as LURC, which governs zoning and planning in Maine's North Woods.
"I'm concerned when I see, as I did yesterday, a list of some of the statutes which are pending before the Legislature dealing with shoreland zoning and with LURC, and it strikes me as being a race to the bottom approach to our environment," Hilton said.
Hilton says it's not environmental rules or regulations that are the biggest impediments to job creation in Maine but rather the high cost of health care. He points out that over the last eight years more than 10,000 permits by rule were issued for small projects, and $5 billion dollars worth of major projects permitted by the Department of Environmental Protection alone.