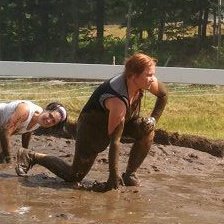 On July 21st, 2012, I found myself face down in a mud pit with my hair tangled in the barbed wire fence I was pulling myself under. Emerging from the pit, I started up a challenging hike to the alpine peak while navigating natural and artificial obstacles with names like "Hole of Horror" and "Suicide Sprint." The downhill didn't offer much reprieve as I clumsily made my way over tippy docks on Barker Pond, sloshed through wet, dark tunnels, and scrambled up and down walls. The exhilarating slip 'n slide with the finish line in sight topped off a day well spent immersed (quite literally) in Maine's natural elements.
Most of the outdoor excursions I share with my family don't involve such intrepid adventure. Although, like the Tough Mountain Challenge at Sunday River, my favorite destination spots from a canoe, trail, or campsite are surrounded by the unique ecosystems of Maine, from the coastline to the remote ponds to the mountain summits. The Natural Resources Council of Maine (NRCM) is the one organization that has successfully safeguarded these places that are near and dear to my heart.
Over its more than 50-year history, NRCM has accomplished so much. Some of my favorites are the successful bottle bill, the forever preserved Allagash Wilderness Waterway, the ongoing removal of dams along the Penobscot that are enabling endangered fish populations and other wildlife to return, and the reduction of toxic chemicals that build up in our bodies and enter the environment, contaminating waterways and other areas. All of this and much more demonstrate why Maine's people, flora, and fauna need NRCM to advocate for the protection of this beautiful place.
This fall, NRCM is going to celebrate another great advocate. September of this year will commemorate the 50th anniversary of Rachel Carson's enlightening book Silent Spring. This trail-blazing book brought forth a great cultural awakening to the connection between the use of toxins, especially DDT, and the life-threatening effect it had on wildlife and human health. Her efforts brought toxic pollution to the public's attention and helped change laws and save wildlife and human lives. We owe our current progress toward a toxic-free Maine to her leadership. We are honored to successfully champion the cause that Rachel devoted so much of herself to.
In recognition of Rachel Carson, we are holding Rachel's Run and Kids' Fun in Augusta's Capitol Park on Saturday, September 29th. Please join us for a 5k run/walk or kids' obstacle course. I promise not to surprise you with either a mud pit or "Hole of Horror." But, I do encourage you to challenge yourself to the relatively flat course along the Kennebec Rail Trail for a very good cause. The registration fee ($15 before August 31st and $20 after that time) and all pledges that you raise will go directly to the work NRCM does to reduce dangerous toxics from the beautiful state of Maine.
Like all of NRCM's work, reducing exposure to toxic chemicals leads to a healthy future. Families across Maine are buying organic produce for their families and speaking up to get harmful chemicals like BPA out of children's products. Here at NRCM, we are doing our part at the State House and beyond to ensure that Maine has strict guidelines to keep dangerous chemicals away from our plates, our toys, and our waste stream to protect all people and animals that live downstream. We work every day to ensure a safe and healthy earth for the next generation. In keeping with this, our Rachel Carson celebration will include a kids' fun run ($5) as well as many other enjoyable nature-themed kid's activities in Capitol Park.
Please do come one, come all to the heart of Augusta—across the street from where so much of our intense advocacy work happens at the State House—to celebrate all that has been done and what is yet to come in our dogged efforts for a toxic-free Maine!
There will be no barbed wire in sight, just good, old-fashioned fun that comes with like-minded people banding together for the common good. For this ever-important cause, consider pushing yourself a bit to walk/run the 5k because I know that you can do it and so did Rachel Carson. In her words, "Those who contemplate the beauty of the earth find reserves of strength that will endure as long as life lasts."