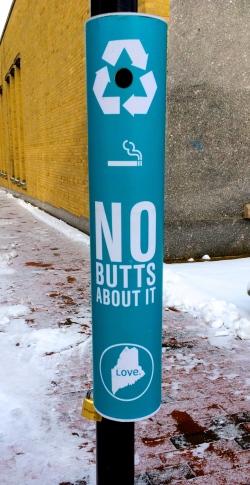 Portland, ME – a success story!
Portland's "Sidewalk Buttler" program is the product of an innovative local business owner, Mike Roylos, who was tired of seeing cigarette butt litter at his storefront. He invented, manufactured, tested, and ultimately saw his idea become a reality when 100 Sidewalk Buttlers went up around the city in November 2014. As a result of his tireless efforts, the buttlers have collected 340,000 butts in their first year, which may have otherwise been littered in the streets and washed into Casco Bay.
The Portland program consists of these three important elements:
1. Providing receptacles to remove, reduce, and recycle cigarette butt litter. The Sidewalk Buttlers are strategically placed around the city in the areas where most butt litter can be found: on sidewalks where people walk and smoke; at wind and weather breaks where people seek shelter; outside buildings where butts are dropped before entering. The Sidewalk Buttler is mounted on existing posts or poles at eye level where people will see them. This program model was tested and proven to be successful in Portland before full implementation.
2. Recycling 100% of butts collected. The City of Portland supervises the regular collection and maintenance of the Sidewalk Buttlers by Portland's Workfare program, and all butts collected will be recycled by Terracycle in New Jersey. Terracycle will compost the remaining tobacco, recycle the plastic found in each filter, and pay for all shipping costs.
3. Cultivating Civic Pride and Broaden Public Awareness. This program effectively draws attention and awareness to the harmful impacts of cigarette butt litter and provides a way for smokers to properly discard of their butts. It is a noncontroversial campaign that brings Portland residents and businesses together to promote involvement and pride in a program that makes the city a healthier, more enjoyable place to work, live, and play. The success of Portland's Sidewalk Buttler project should inspire other cities across Maine and throughout the nation to do the same.