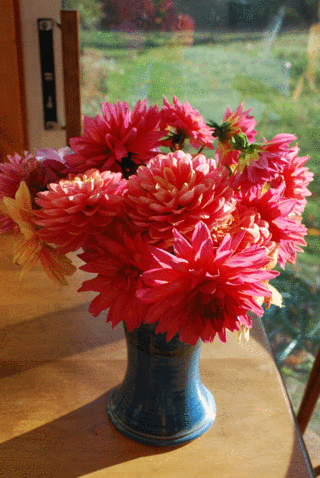 The other night, I was outside at 10 p.m. cutting a big bouquet of the last of my dahlias before the frost that finally came. Beautiful!
But I had to ask myself, why do I have dahlias in the final days of October at all? When I moved to Maine 30 years ago there were no flowers much after Labor Day.
There also were no ticks to speak of but this week I pulled four off my cat. I worry about this for many reasons, including because of Lyme disease, especially considering how widespread and numerous ticks have become in reason years.
Today, the weather forecast is calling for six inches of snow—and it's only October 29th!
Climate change is real. That's why we need to get going on clean energy and energy efficiency. Please help by collecting signatures on November 8th for a 2012 citizen's ballot measure that will protect the nature of maine by reducing pollution, create jobs, and improve our economy. Contact Emmie at emmie@nrcm.org if you can offer a few hours. Find out more about this urgent new citizen's initiative today!