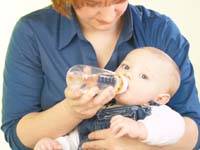 Baby That Bottle
Hard-plastic polycarbonate reusable water bottles, including Nalgene and even baby bottles, leach toxic bisphenol-A, especially when scratched or holding acidic drinks like orange juice. Use water and baby bottles made from non-reactive materials, such as stainless steel or glass, to keep you and your baby safe.

Better Beauty
Many cosmetics and personal care products contain an array of untested and toxic chemicals.
See what's in the products you use and find safer alternatives for yourself and your family.
Clean Housekeeping
Industrial chemicals in traditional household cleaning products can cause numbness, lung irritations, burns, and other health problems. For green cleaning tips — did you know that salt can help clean your messy oven? – read our Clean Housekeeping guide.
Clean Clothes Without Consequences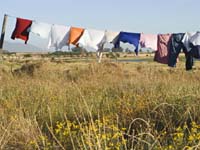 Dry cleaning chemicals contain carcinogenic compounds that invade the air and leach from fabric into the air and onto skin. "Wet-cleaning" is a non-toxic alternative. Natural fibers are and green detergents are also better for the environment.
Washing new clothes before wearing them helps remove toxic chemicals and preservatives such as formaldehyde.
Green Lawns and Healthy Gardens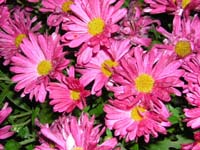 Avoid pesticides and chemical fertilizers and switching to organic lawn care products helps protect local water sources and your loved ones. An electric or human-powered mower will cut down on toxic air pollutants. Learn more about organic lawn care.