Recycling happens when we work together to make sure that discarded materials are used again as an input for a new product. Recycling relieves pressure on our natural resources, saves energy, helps keep valuable materials out of landfills and incinerators, and creates jobs. Recycling isn't just the right thing to do, it also makes economic sense to avoid expensive disposal costs and instead return valuable materials back to the commodities market. But even with all the benefits of recycling, don't forget that waste reduction and reuse are still the best ways to manage materials.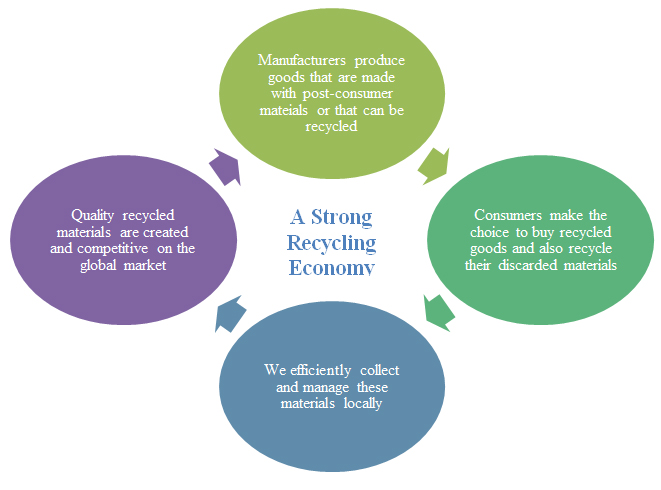 Our local recycling efforts have global implications. Everyone has an important role to play in order to have a well-functioning global recycling industry. Manufacturers need to produce materials that can be recycled and/or are made from recycled materials. Consumers need to buy materials that can be recycled and be sure to place these items in the recycling bin. We can all do our part to efficiently collect, manage, and sell these materials, which provide much-needed, high-quality recycled materials to the market that manufacturers can use to make new products.
In Maine, we are doing a fair job at recycling in our homes and businesses, but there is much work to be done. Since 1989, our state has been chasing a goal of recycling 50% of our discarded materials, but we have consistently come up short at about 40% over the past few years. Based on a waste characterization study done by the University of Maine, we know that about 35% percent of what is currently in our household garbage bags could instead be recycled or composted—which could bump us up to a 75% recycling rate. And we'd be remiss not to mention the states most successful recycling program—the beverage container deposit program—which successfully recycles about 90% of Maine's plastic and glass beverage containers into high-quality commodities.
These are things we can do to divert more materials from our landfills and meet or exceed Maine's 50% recycling goal:
Create new recycling programs and expand existing programs. Most of Maine's municipalities provide an opportunity for residents to recycle their household waste, but they don't all collect the same materials. A robust recycling program is one that collects plastics #1-#7, mixed paper, cardboard, newspaper, aluminum, steel, glass, leaf and yard waste, food scraps, and harder to recycle items like rigid plastics, bulky wastes, and any potentially toxic universal or hazardous wastes that don't belong in the landfill or incinerator. The more materials that can be collected, the fewer materials go to the landfill. Contact your town to find out what you can recycle, and encourage policies to expand programs to collect more materials.
Encourage participation in recycling programs. Your town may have a decent recycling program, but not everyone takes advantage of it. One of the most effective ways to increase participation in recycling is through a pay-as-you-throw program, where people pay for each bag of waste they create, so that there is an incentive to recycle as much as possible to avoid paying for bags. Another way that towns have increased participation in recycling programs is to make it simpler and more convenient by providing curbside or single-stream recycling. Curbside recycling is important to have especially if trash is being picked up at the curb, and single-stream recycling makes it easy since paper, plastic, glass, cardboard, and metals can all be put in the same bin. However, single stream recycling typically creates a lower-quality recycled commodity—which we know impacts the global recycling industry. If your town has a well-functioning source-separated system then it's a good idea to keep it that way.
Increase public awareness. The general public doesn't talk much about waste because it just goes "away"—but there is no magical away. Away just means going to a landfill or waste-to-energy facility, which is the least effective way to manage our materials. It's up to our town employees, schools, local activist committees, businesses, and nonprofits to use proper signage and messaging in public spaces that lets people know where their materials are going—and that not being wasteful, recycling, and composting are really important.
Expand Maine's Product Stewardship programs. Maine has one of the most comprehensive sets of product stewardship programs in the nation, which are successfully collecting and recycling problematic materials that would be difficult for municipalities to do on their own. Bulky items like mattresses and carpets are beginning to be managed by product stewardship programs in other states because they take up a lot of space in landfills. Many countries have adopted a product stewardship program for packaging, which incentivizes companies to make recyclable packages, with less material, and help pay for the collection and recycling of those packages. We don't have these programs in Maine yet, but we should.