Our nation's broken federal chemical safety law currently assumes that all chemicals are safe unless proven harmful—which is putting us all in danger. There are nearly 85,000 chemicals that are approved for use that people know hardly anything about—and the EPA has only reviewed a couple hundred of them for safety, and is regulating only a small few. Typical Americans have more than 212 industrial chemicals in their bodies, according to the Centers for Disease Control and Prevention. These chemicals include at least six known carcinogens, and dozens that have been linked to cancer, birth defects, and other adverse health effects. NRCM thinks that we can do much better to protect our environment, wildlife, and Maine people—and all Americans—from exposure to toxic chemicals in the marketplace.
In 2012, NRCM, our partners, and a unified Maine Legislature urged Congress to modernize the federal Toxic Substances Control Act of 1976 (TSCA) by passing the Safe Chemicals Act. The Senate Committee on Environment and Public Works approved this Act, but the bill ultimately died. This Act would have required the chemical industry to provide information on the health and environmental safety of their chemicals; sped up the chemical evaluation process, and encouraged safer alternatives to chemicals of concern, among other things. The Safe Chemicals Act at least helped to raise public awareness of the fallacy of TSCA, but it's clear more federal policy reform is needed to protect our families and children from exposure to toxic chemicals. Read this report to learn more about how the Federal government is failing at protecting the American people from exposure to toxic substances.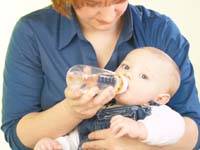 In addition to our past work on federal toxic chemical policy, NRCM has also worked with our partners to pass successful legislation that now protects Maine children from toxic cleaning chemicals and pesticides in schools, and, in 2008, we worked for passage of the Kid-Safe Products Act, which sets up a process to phase-out the worst chemicals from household products that affect children. In 2011 we urged a bipartisan group of legislators to work together to protect the Kid-Safe Products Act from efforts to gut it. They did so and also voted to ban Bisphenol-A (BPA)—the first toxic chemical identified for phase out-from children's products.
Until all unsafe toxic chemicals are removed from our consumer products, NRCM encourages you to learn more about how to reduce the risk of exposure by providing you with our Reduce Your Use brochure and Clean Housekeeping brochure.