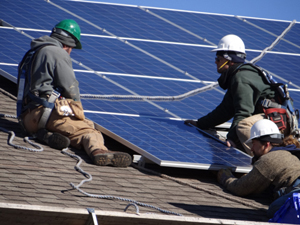 Solar energy is quickly turning into a community endeavor in Maine, with more and more people choosing to invest together in switching to renewable energy and protecting their environment.
One model, community solar farms (CSFs) are ideal for people who may not have the roof or room for solar panels, but are eager to produce their own renewable energy. The new Maine state law dictates that these shared solar farms, which may be located on private or public land, can be used by up to 200 households or businesses. Community solar farm agreements can be owned and structured in different ways.
Another community solar model, Solarize, allows for bulk purchasing of solar panels, to lower the cost for residents and businesses in that area. The panels are installed separately on each participant's building.
A third model, municipal-owned solar projects are also springing up in Maine. These projects are organized by towns around Maine, are sited on municipal property or buildings, and can benefit tax payers and residents.
Explore the links below to learn how you can bring solar to your home and community!