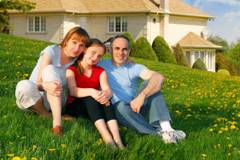 Are you looking for resources and financial incentives to make your home more comfortable, healthy, and energy-efficient? Do you want to save energy – and money – in your home by weatherizing, buying efficient appliances, or adding solar or wind energy systems? If so, we can help point you in the right direction. With a new weatherization financing program from Efficiency Maine, now is a perfect time to get your home in shape! Step One: Get a Home Energy Audit. Step Two: After Your Audit, What's Next? Available cost-saving programs and rebates for:
Why Efficiency is Important to You and the Environment
Efficiency Matters
Whether you want to save money, increase your energy independence, improve comfort, or cut air and global warming pollution, the first step is to maximize energy efficiency. Efficiency, and conservation, is always the cheapest way to meet your energy needs. Making your home more efficient will:
Cut your monthly energy bills. Alison and Eric of Monroe, Maine, got an energy audit and took measures to weatherize their home, including doubling their attic insulation and reducing their home's air leakage by 60%. They are expecting to save at least $1,500 on their heating bill each year!
Make your home more comfortable for you and your family, and, in some cases, healthier, too. "One January morning, we had a 70-degree spread (-9 degrees outside to 61 degrees inside), thanks to our re-insulated house! And the furnace hadn't been on all night!" – Alison and Eric, of Monroe, Maine
Reduce pollution. Every kilowatt hour of electricity you use generates a pound of global warming pollution. Our electricity comes from coal, oil, gas, and nuclear-fueled power plants that produce smog, haze, acid rain, and nuclear waste. Every gallon of heating oil you burn generates about 20 pounds of global warming pollution—plus sulfur and other pollutants.
Step One: Get a Home Energy Audit.
A home energy audit by a certified professional will help you to discover the opportunities to improve your home. Does it make more sense at your house to insulate an attic, replace some windows, or improve caulking and weather-stripping first? An audit will estimate the costs and savings potential of these and other measures and help you to set priorities for making your home more energy efficient. And you'll need one to qualify for some state weatherization incentives. A home energy auditor might also be a weatherization contractor or installer, or they might just do audits—either can be appropriate, depending on personal preference. We recommend that you use an auditor who is a "Participating Energy Advisor" through the Efficiency Maine Home Energy Savings Program. These are auditors who have received national BPI-certification, and they are trained and up-to-date in how the Efficiency Maine programs work, so they can usually help guide you with programs, in addition to finding energy saving opportunities in your home. Make sure you get an audit that works for you. Energy Advisors should audit your home for efficiency improvements, help you determine if you qualify for incentives, and get you started either by offering to do the weatherization work themselves or recommending qualified contractors. Be sure to ask that the audit will be compatible with the Efficiency Maine Home Energy Savings Program when asking for pricing.
Read about NRCM staffer Matt Scease's experience having an energy audit done on his home. ** We recommend an audit because it is an important step to achieve large savings. If you can't have an audit or want to start make smaller changes at your home tomorrow, check out our Energy Saving Tips for Your Home.**
After you get a home energy audit, you will have a better idea of what measures you can take to begin saving energy in your home. There are a number of different programs and rebates that are available to help cover part of the costs of your investments. Below you will find information on incentives available for weatherization and energy efficiency heating systems, appliances, and lighting. And hopefully your auditor can give you some advice or assistance with these too—especially if you choose an Energy Advisor certified through Efficiency Maine.
Weatherization and Heating Systems:
These programs and incentives cover many of the types of improvements you may need to do to make your home more efficient, including weatherization of the building itself and energy efficiency in heating systems, which use most of your home's energy. These programs and incentives can all be combined* to yield very significant rebates! * (With the exception of the low-income program)

Efficiency Maine Home Energy Saving Program
Do you have cold spots, ice dams, drafts, or frozen pipes?
Do you plan on living in your house for the next 10 years?
Do you use ½ a gallon or more of fuel per square foot of your home per year?
In 2010 Efficiency Maine launched a new residential weatherization program. All homeowners, regardless of income, were eligible for help to pay for weatherization work done on their homes. Cash incentives from $1,500-4,000 were available, but because the Legislature failed to provide funding for this program (LD 1066), there are no more resources for weatherization rebates. This program has helped more than 2,000 homeowners with weatherization upgrades, resulting in 737,000 gallons of heating oil saved per year. These are significant energy savings that need to be built upon and sustained. However, PACE Financing is now available in many select towns for homeowners looking to participate in the Home Energy Savings Program. With PACE Financing, you can borrow up to $15,000, at 4.99% for 15 years, for energy efficiency upgrades that save energy and make your home more comfortable. Upgrade your heating system, weatherize your home, and make other improvements to cut your heating bills month after month. The energy savings that result from the project improvements should exceed the cost of servicing the loan. Homeowners interested in weatherizing their home with a PACE loan can either contact a Participating Energy Advisor to schedule an energy audit or call Efficiency Maine at 1-866-376-2463 to pre-qualify for a PACE loan. Energy audits, required for PACE loans, identify the most cost-effective measures to upgrade the energy efficiency and comfort of your home. Participating Energy Advisors are familiar with the PACE loan program and can help homeowners understand the terms and conditions of the loans. Installations can be completed by any contractor, but the contractor must register with Efficiency Maine to participate in the project. (Many Energy Advisor companies also do installation work.) For more details on eligibility and process, visit the Home Energy Savings Program at Efficiency Maine.
Federal Funding: Home Energy Efficiency Improvement Tax Credits Consumers who purchase and install specific products, such as energy-efficient windows, insulation, doors, roofs, and heating and cooling equipment in existing homes can receive a tax credit for 10% of the cost, up to $500, for improvements. See ENERGY STAR's ® Federal Tax Credits for Energy Efficiency for a complete summary of energy efficiency tax credits available to consumers.
Energy Efficiency Loans For several years, he Maine State Housing Authority's Home Energy Loan Program has arranged for HELP loans with several Maine banks to help homeowners with energy efficiency. Additionally, some banks may be offering separate loans to help homeowners pay for energy efficiency and weatherization improvements to their homes. For example, Bangor Savings Bank is now offering a simple and low-cost Energy Efficiency Loan to homeowners. The loan is for between $5,000-$10,000, has a quick and easy qualification process, and is a 5 year term with 7.5% interest. Other banks in Maine may be offering similar loans, so you should check with your local bank for available options.
Maine Housing Program : Low-income Weatherization and Heating System Grants Low-income homeowners and renters may be eligible for MaineHousing's Weatherization Assistance Program and Central Heating Improvement Program, which provides grants to improve home energy efficiency and perform energy-related repairs.
Energy-efficient Appliances:

It is easy to forget that appliances come with two price tags: one when you purchase the appliance, and another each time you pay an electricity or fuel bill. Check out the ENERGY STAR® website for a list of appliances, information on dealers, and savings calculators for refrigerators, freezers, and other major appliances. One time stimulus-funded appliance rebates were available in 2010, but all of the money has been used so there are no longer rebates available. If funded, the Efficiency Maine Trust's three-year plan includes further appliance programs.
Energy-efficient Lighting:
Modern compact fluorescent lights (CFLs) save 65% on electricity costs, last 10 times longer than incandescent bulbs, and provide excellent light. CLFs today come in a much wider variety of shapes, sizes, and color tones. Make sure you properly recycle any CFLs, and that you know how to properly clean them up if they break.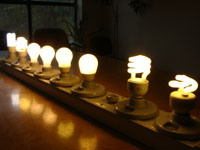 ENERGY STAR® Residential Lighting Program through Efficiency Maine Efficiency Maine's Residential Lighting Program works with retailers and manufacturers to encourage the purchase of energy-efficient lighting by residential customers. The program offers an instant rebate on ENERGY STAR® CFLs, between $0.50 and $3.00 at participating retailers. Participating retailers will deduct the rebate amount at the cash register.