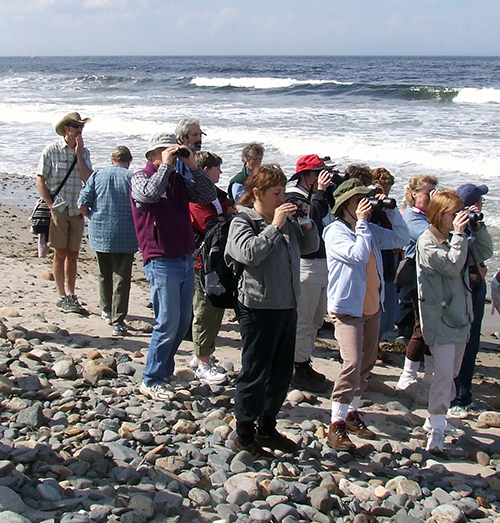 NRCM is honored to be an Acadia Centennial Partner was pleased to celebrate Acadia National Park's 100-year anniversary with a bird walk in the park on Saturday, May 14—International Migratory Bird Day (IMBD). IMBD is a great day to celebrate the beauty and importance of birds, and Maine is a hotspot for many bird species.
Thanks to all who joined Jeff and Allison Wells for a morning of birding in Acadia National Park, a great place to see birds among the beauty of Maine's coast. Both lifelong birders and coauthors of Maine's Favorite Birds, Allison is NRCM's senior director of public affairs and Jeff is senior scientist for the Boreal Songbird Initiative and a Fellow of the Cornell Lab of Ornithology.
We met at Seawall Picnic Area (425 Seawall Road, Southwest Harbor, ME 04679) between Southwest Harbor and Bass Harbor at 8:00 a.m., where we scanned for lingering Black, White-winged, and Surf scoters, Long-tailed Ducks, Horned Grebes, and other seabirds that have not yet returned north to their Canadian breeding grounds. We checked the nearby area for newly arrived warblers and other songbirds. Then we moved on to nearby hiking trails to listen for the rollicking song of Winter Wren and search for the brilliant orange-throated Blackburnian Warbler, the yellow-faced Black-throated Green Warbler, and, with luck, the amazing White-winged Crossbill.
What to bring: binoculars, birding scope if you have one (or you can share ours), water bottle, snacks if you want. This event is free and open to the public.