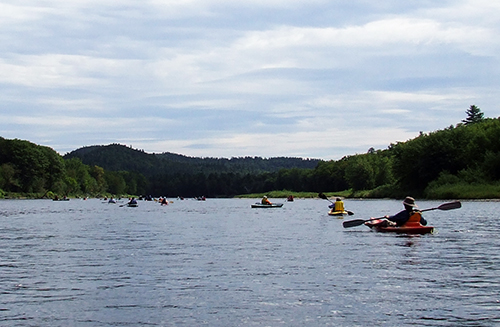 NRCM members and staff paddled a beautiful stretch of the Upper Androscoggin River in Bethel on Saturday, September 2 to celebrate NRCM's work protecting and restoring Maine's rivers.
We partnered with Bethel Outdoor Adventure for a 10-mile paddle from Gilead to Bethel on the Androscoggin River. Thanks to all who came along for the ride! We did this same paddle a few years ago and it was back by popular demand.
What: Paddle on the Androscoggin River from Gilead to Bethel
When: Saturday, September 2 from 9:00 a.m. — 2:00 p.m.
Where: Bethel Outdoor Adventure 121 Mayville Road (Route 2) in Bethel
Logistics: We met at 9:00 a.m. at Bethel Outdoor Adventure (121 Mayville Road/ Route 2), parked our vehicles, and took the 10:00 a.m. shuttle to the Gilead boat launch. We enjoyed a leisurely three-hour paddle on this easy stretch of the river and were back at our vehicles around 2:00 p.m. We took a break mid-way on the banks of the river to enjoy our lunches. NRCM has been a leader in protecting and restoring the health of Maine's rivers for more than 50 years. From establishing the Allagash Wilderness Waterway; to restoring freer flowing waters and native fisheries on the Kennebec, Penobscot, and St. Croix rivers; to protecting Maine from metallic mining pollution. This was a great opportunity to meet some NRCM staff and board members, network with others who love Maine's environment, celebrate NRCM's work protecting Maine's rivers, and of course enjoy a lovely day of paddling on the Androscoggin!