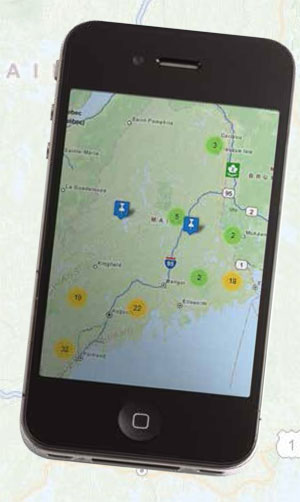 Looking for great places to hike, bike, swim, picnic, paddle, ski, watch wildlife, or just relax and enjoy Maine's beautiful scenery? The Natural Resources Council of Maine has created a smartphone app, for your iPhone or Android, that includes our interactive Explore Maine map to help you find more than 120 special places to explore, many of which were protected through Land for Maine's Future funding. The app has lots more features, too!
You can make your plans on the go, thanks to our app for your iPhone or Android. The app lets you access our interactive Explore Maine map, send us photos, take action on our issues, find out about upcoming events, stay up to date on recent news, and more. The app is free—download "NRCM Environment" (formerly "NRCM My Maine") at the Google Play Store for your Android or iTunes for your iPhone.
While you are out hiking, paddling, bird watching, or traveling around Maine, snap some photos with your smart phones, upload them via our app, and share them with us instantly! We may choose your photo to be our My Maine This Week featured photo, and we will share your photo in our "My Mobile Maine" slideshow below. Thanks to everyone who has already shared their photos with us via our app. It's quick and easy — give it a try! Send us your Maine photos today!
my-mobile-maine
Photos taken around Maine and sent to us via our NRCM Environment app
https://www.nrcm.org/wp-content/tn3/2/Palm-Warbler-Setophaga-palmarum-Florida-Lake-Preserve-Freeport-042417-J-Stormer.jpg