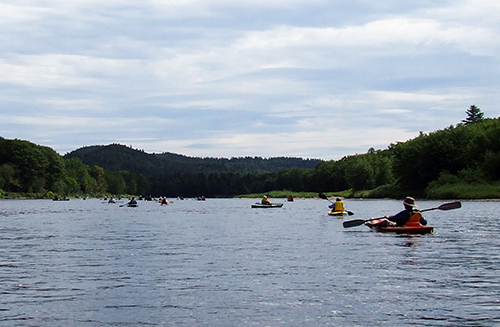 Please join us for a paddle on a beautiful stretch of the Upper Androscoggin River in Bethel on Saturday, September 2 to celebrate NRCM's work protecting and restoring Maine's rivers. Sign up today!
We're partnering with Bethel Outdoor Adventure for a 10-mile paddle from Gilead to Bethel on the Androscoggin River and we hope you will come along for the ride! We did this same paddle a few years ago and it's back by popular demand. Join us again—or for the first time.
What: Paddle on the Androscoggin River from Gilead to Bethel
When: Saturday, September 2 from 9:00 a.m. — 2:00 p.m.
Where: Bethel Outdoor Adventure 121 Mayville Road (Route 2) in Bethel
Cost: You're welcome to bring your own kayak or canoe. There is an $8 fee for transporting your boat to the start of the paddle. If you prefer, kayaks ($45), double kayaks ($65), and canoes ($65) are available to rent at Bethel Outdoor Adventure. When you sign up, please let us know if you're bringing your own boat or if you'd like to rent for the day. You'll pay for your rental the day of the trip. All are welcome to join but space is limited so be sure to reserve your place today!
Logistics: We'll meet at 9:00 a.m. at Bethel Outdoor Adventure (121 Mayville Road/ Route 2), park our vehicles, and take the 10:00 a.m. shuttle to the Gilead boat launch. We'll enjoy a leisurely three-hour paddle on this easy stretch of the river and be back at our vehicles around 2:00 p.m. Be sure to bring along your lunch as we'll take a break mid-way on the banks of the river. NRCM has been a leader in protecting and restoring the health of Maine's rivers for more than 50 years. From establishing the Allagash Wilderness Waterway; to restoring freer flowing waters and native fisheries on the Kennebec, Penobscot, and St. Croix rivers; to protecting Maine from metallic mining pollution. This is a great opportunity to meet some NRCM staff and board members, network with others who love Maine's environment, celebrate NRCM's work protecting Maine's rivers, and of course enjoy a lovely day of paddling on the Androscoggin!