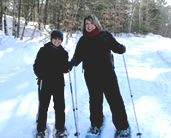 Join NRCM for our annual snowshoe and cross-country ski event at the Hidden Valley Nature Center in Jefferson. Please meet us at the HVNC entrance at 131 Egypt Road at 10:00 a.m. The event will end around 1:00 p.m.
NRCM and HVNC staff will join you for a few hours of winter fun on the miles of groomed and backcountry trails, great for beginners and experienced winter sport enthusiasts.
RSVP for the event to beth@nrcm.org or call (207) 430-0106. Please consider carpooling. If you don't have your own snowshoes, you can rent them from HVNC, by emailing andy@hvnc.org. If you like, a $5 donation to HVNC for use of their trails would be appreciated. Please pack a lunch and water. See you on the trails!