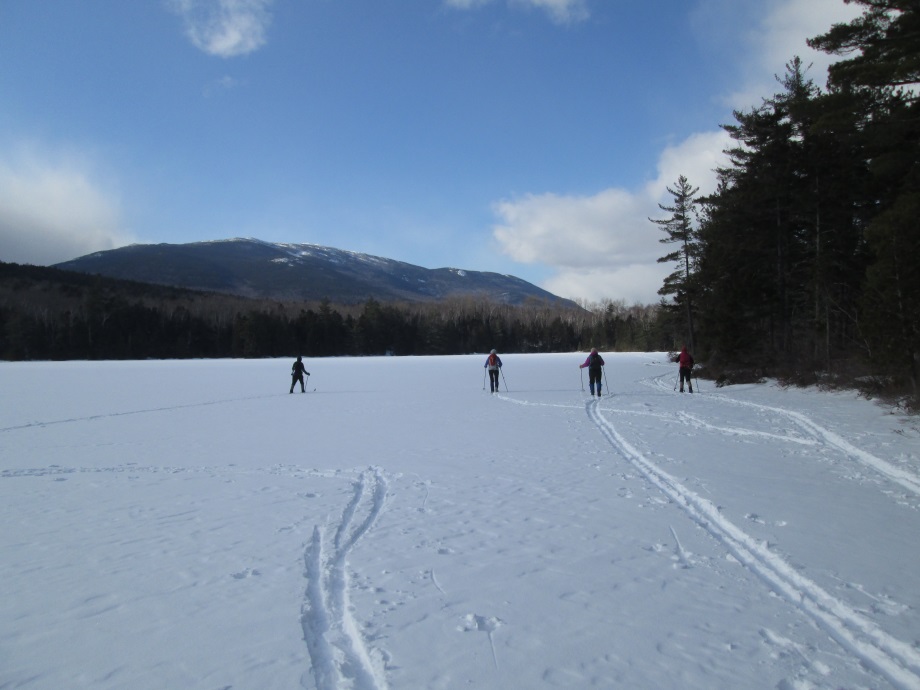 Chosen By: Cathy Johnson, Senior Staff Attorney and Forests & Wildlife Director
Location: Trails along the East Branch of the Penobscot River, Penobscot County
Description: Bowlin Camps and Matagamon Wilderness Campground groom 30 miles of cross-country ski trails along the East Branch of Penobscot River, an area that Elliotsville Plantation, Inc. would like to donate as part of a 150,000-acre national park and national recreation area. The trails pass dense forests on one side and the waters of the East Branch on the other. There are outdoor campsites along the way, more frequently used by river paddlers in warmer months. Scenic backdrops include Messer Pond with the Travelers—connected peaks in the northeastern portion of Baxter State Park. Haskell Rock Pitch is one of several waterfalls (likely frozen!) along the route.
Activities: Cross-country skiing, winter camping, hiking, paddling, walking, wildlife watching, bird watching
Favorite Season(s) to Visit: Winter
Why It's Special: The skiing is peaceful here, with no noise from motorized vehicles. Nights are quiet, dark, and star-filled. This land is so special, it's being proposed as part of a national park!
Tips: Check on skiing conditions before you go by contacting Katahdin Woods and Waters lunksoos@gmail.com or Matagamon Wilderness Campground and Store. Download a map of the trails in advance, at NRCM's website.
More Info and Directions: Easy access to the groomed trails from the north end at Matagamon Wilderness Campground and Store or from the south end at Bowlin Camps.