Chosen By: Sarah Nichols, Sustainable Maine Director
Location: Baxter State Park, Piscataquis County
Description: AT 5,269 feet, Mount Katahdin is the highest mountain in the state of Maine. In fact, its name, given by the Penobscot Indians, means "The Greatest Mountain." It's the northern terminus of the Appalachian Trail in Baxter State Park and is Katahdin is the centerpiece of Baxter State Park. There are forests and bogs, ponds and waterfalls that make hiking Katahdin a wonderful immersion in nature.
Activities: Hiking, wildlife watching, taking in awesome views
Favorite Season(s) to Visit: Summer
Why It's Special: Climbing mountains is my favorite thing to do! As Maine's highest mountain, situated in spectacular Baxter State Park, it doesn't get any better than Katahdin. I like all of the trails I've tried so far, and usually take a different way up and back, if I can. I love the rugged trails with lots of rocks to climb over.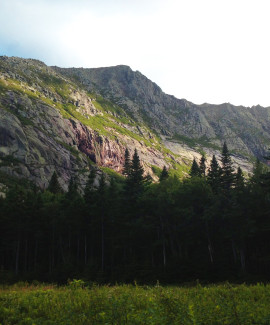 Tips: On my favorite trip, I hiked up Katahdin and back, then camped at Maine Rafting Expeditions Campground and got up the next morning to raft the Penobscot. I looked up at the mountain (when I wasn't hanging on for dear life in the raft), thinking, "Wow—I was just up there yesterday!" I recommend it! And, I always follow my Katahdin hikes with a dip in Togue Pond on my way out of the park. I recommend that, too!
More info and Directions: Baxter State Park Authority is the go-to for questions and info  https://baxterstatepark.org/