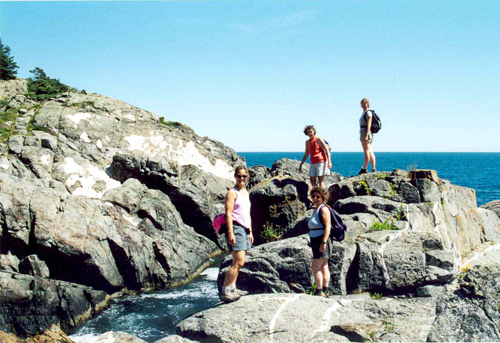 Location: Monhegan Plantation, Knox County
Description: Ten miles off the coast of Port Clyde is a Monhegan Island, which is home to a year-round fishing community and a wealth of hiking trails. Monhegan Associates, a land trust, owns about three-quarters of the island and maintains an expansive spiderweb of trails through the forests and around the coast of the island. It's well known among birders as a stopover hotspot for migrating birds. The views from Monhegan are incredible, and the setting is idyllic.
Activities: Hiking, wildlife viewing, birding, photography, eating ice cream
Favorite Season(s) to Visit: Summer
Why It's Special: Monhegan combines some typical (but beautiful) woods, trails, and coastal views with the charm of a small, friendly village. The added benefit is a score of artists' studios with visiting hours. There are only a couple of automobiles on the island, so a weekend on Monhegan is really a trip back in time. Visit the wonderful Cathedral Woods with its many fairy houses.
Tips: Plan ahead. Getting to and staying on Monhegan is not meant to be simple. Ferries leave from Boothbay, Port Clyde, and New Harbor. Stay overnight at the Trailing Yew, Island Inn, Monhegan House, or Shining Sails.