It's March. Hurray!
I will admit that I am not a fan of winter though I have lived in Maine all my life. I am not someone who is giddy at the first sign of snow, and after 40 Christmases, I am not someone who needs to ever see another "white Christmas." Bah humbug.
But, without winter, I suppose I would not get that warm, happy feeling that is inside me right now. The happiness I felt last Thursday when I could turn the calendar from "February" to "March" was almost indescribable. I love March because it means that spring begins. I love March because it means that even if it snows, the snow will melt more quickly than it did in January and February (not that we had much to melt from February this year). The arrival of March also means that Maine Maple Sunday is just around the corner, on Sunday, March 25th!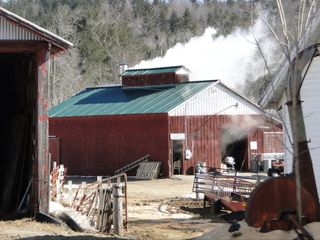 I LOVE Maine Maple Sunday. I have been attending Maine Maple Sunday for more than a decade because my cousin has a maple syrup business, Hall Farm Maple Products on Route 2 in East Dixfield, and I go each year to help out. My cousin is the eighth generation on the farm (my mom grew up there), and he started making maple syrup as a hobby in high school. Now he taps more than 7,000 trees and last year made more than 1,000 gallons of syrup. (Fun fact: it takes 40 gallons of sap to make one gallon of maple syrup.)
On Maine Maple Sunday (always the fourth Sunday in March), Maine's syrup producers open their sugarhouses and farms to visitors who come from all over to sample delicious, fresh Maine maple syrup. At my cousin's, there is a pancake breakfast, tours of the sap house, maple cotton candy (a huge hit with everyone!), tours of the dairy farm (usually there are newborn calves and a few barn kittens there to greet you), and a store in the old schoolhouse where my mom and her brother and father attended school. It's a great day, with hundreds of people visiting throughout the day.
Several years ago, my cousin agreed to be interviewed for the Natural Resources Council of Maine's Global Warming in Maine: Warning Signs, Winning Solutions publication. He said, "I know my granddad made syrup commercially in the 60s and early 70s and they always planned on making syrup around the 12th or 15th of March. We're probably a week earlier. Is that due to global warming? That concerns me." And this year, he started making syrup in February, even earlier than before, due to warm temperatures.
Global warming is a big concern for maple producers, ski resorts, and others who make their living based on cold, snowy winters in Maine. It is also a concern for Maine's coastal communities, who are faced with issues surrounding sea-level rise. Portland has already begun to plan for higher sea-levels due to climate change.
It is important that we make changes that help reduce our carbon footprint and our impact on climate change. Yet just last week, the State announced an end to the vanpool by Go Maine (skeptics believe that is just an excuse). If that happens, and users can't find a replacement solution, it will more cars are on the roads, more traffic congestion, more vehicle emissions  released into the environment, and Mainers spending more of their hard-earned money on expensive gasoline rather than sharing a ride with others. Learn what you can do about this here.
One great way to help reduce global warming pollution is to eat local foods that don't have to be trucked or flown into your grocery store. And what is a more delicious local food than sweet maple syrup, produced right here in Maine?
So, do your part to shop locally and support a local, Maine-made product on Sunday, March 25th, by visiting a sugarhouse near you. Allison Wells, NRCM's senior director of public affairs, visited a maple syrup producer in Dresden with her family a few years ago and made a great short film of the day—so if you have never been, I hope that watching this video will encourage you to give it a try!
For a full list of locations participating in this year's Maine Maple Sunday, visit www.mainemapleproducers.com/maine-maple-sunday-map.html. I will be at Hall Farms for the day—if you are in the area, please stop by to say hello!