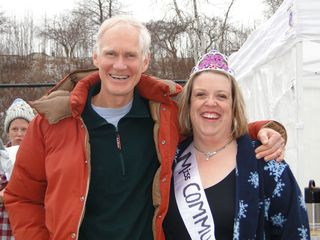 Last year, I signed up to participate in NRCM's annual Polar Plunge. I distinctly remember saying to friends and family members, as I asked them to sponsor me, "Please donate to this worthy cause. I am only doing it this once, never again, so now's your chance to sponsor me."
Do you know the phrase, "older and wiser?" I am one of those two things a year later…I will let you decide which one it is.
That's right, I let peer pressure and the promise of glory and bragging rights – and the ability to help raise money to support NRCM's clean energy work – coerce me into taking the plunge again! I am not sure what happened, but before I knew it, my photo was on our website as one of the "polar bears," my name was written on the participant board in the office, and I was off and running…raising money again for a very worthwhile cause.
And then I woke up this morning to an unexpected snowstorm, cold temperatures, and thought…"What have I done?!"
So, before the polar plunge happens on New Year's Eve day, I wanted to write some things down. Here goes…
I, Elizabeth Dimond, being of sound mind and body…
Oh wait. I SHOULD write that down just in case the water sends me into shock. But those words, and who I leave my salt and pepper shaker collection to, aren't really of concern to you, I am sure.
What I do want to say is that it's not too late to join us. You can still sign up – even the day of the event, show up with your $50 or more in hand, pose for our group photo, and then at the sound of the whistle, run screaming into the Atlantic, knowing that you are doing this for a worthwhile cause. The cold only lasts for a minute (ok…maybe a few minutes), but the impact you make by participating will last for many years to come. Join us and take the plunge, or cheer, or bring warm blankets, or be ready to hand us a hot cup of coffee. There are lots of ways to participate. Won't you join us?
And a special thanks to everyone who has already signed up to participate – as well as our generous business sponsors. We hope to see you at East End Beach at noon on Friday, December 31st. See you there!
Beth Dimond, Public Affairs Coordinator and Polar Plunger
One final note: Last year, my coworker and I came up with our set of polar plunge rules. I think they are worth reviewing – especially if you are a first-time plunger.