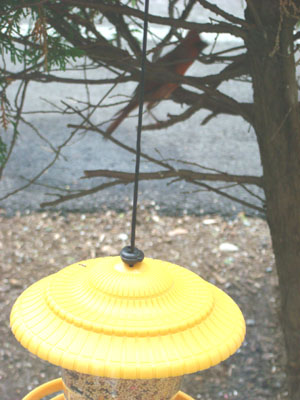 I was sitting in my office this morning, watching the birds that continue to feed at my new bird feeder outside my window, and I wasn't really paying close attention, as I know the "usuals" who visit my feeder now – some sparrows and mostly 2-3 chickadees who visit on and off throughout the day.  But this morning, I couldn't believe it when I saw a male cardinal perched on the branch of the shrub that is just behind my bird feeder.  I was so unprepared that I wasn't able to get a great photo of my newest visitor, but here is the best I could do on such little notice.
I love cardinals and have a pair that visit my home bird feeders throughout the winter. I don't know if is their bright red color against the white winter snow or what it is that makes me so giddy when I see them – but I could watch cardinals for hours.  They are beautiful and their call is one of the few that I can distinguish from others.
On a separate but related note…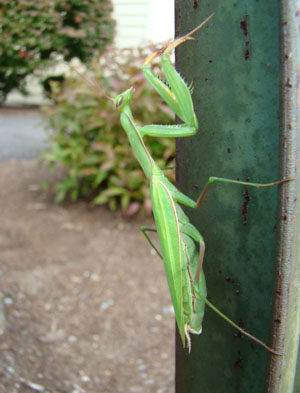 A few weeks ago, a coworker came running to my office when I returned from lunch because she wanted me to go outside to see a praying mantis that had just laid some eggs on our "Parking for NRCM staff only" sign.  I was nervous to get too close to her as I didn't want to disturb her, but I was able to use my zoom lens and get this photo.
I live in the country, so am not surprised to see wildlife (though I heard some wildlife when I got home the other night and quickly found a new route into my house as I was afraid I could surprise this little creature, and since skunks frequent my yard, I didn't think it was the time to surprise anything…a skunk OR me…
But working in the city, I never really expect to see a lot of wildlife.  So, when we have sightings of cardinals, a praying mantis, and my White-crowned Sparrows a few weeks ago, I get very excited.
What animals are you seeing around your yards/offices/other locations this time of year?  I would love to see your photos and encourage you to write about them on here or send the photos to me for our "My Maine This Week" feature on our website at My Maine This Week.

Have a great day!
—Beth Comeau, Communications Manager