I am very excited that more and more people are using canvas bags for their groceries, shopping at local stores, and for their travels (canvas bags are great travel totes). I am also excited to see folks posing for photos with their NRCM tote bags. On Earth Day, we launched this new "where in the world is your NRCM bag?" project in which we ask members and supporters to take their NRCM bags with them on vacation to local Maine landmarks or to other exotic locales in order to show us where and how they use their canvas bags. We are trying to raise awareness about the use of canvas bags rather than paper or plastic bags that fill up landfills, take years to biodegrade, and also cause harm to wildlife.
Here's one of my favorite pictures that has been sent in so far.  It's of Jewell Childs on her way home to Maine from her winter in Florida: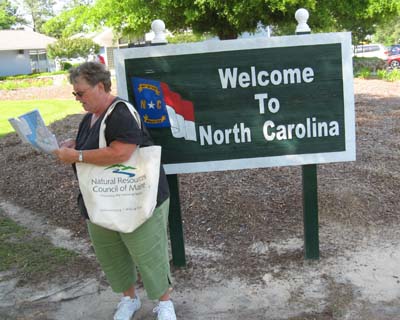 I hope you will join our effort by buying an NRCM bag or use the NRCM bag you already have. Please send us a photo from your bag-toting adventures! See where other people have been with their bags by visiting our website.
What are some ways that you use your canvas tote?  I always make sure I come home from buying groceries and immediately unpack my canvas bags, put the groceries away, and then fold up my bags and put them right back in my car before I forget.  I am always stopping at stores to buy one or two things, and now I can either use my canvas bags or just tell them that I am all set and don't need a bag for my few purchases.  I used to have more plastic bags at my house than I knew what to do with – and now I get probably one plastic bag every month or so – and I then take it to be recycled the next time I am at that store.  I know that my using canvas bags isn't going to change the world all at once, but I feel like everything we can do, big or small, can make a difference.
So, where in the world is YOUR NRCM bag?
Beth Dimond