It was seven years ago, and my first day of duck hunting didn't go very well. It was a friend's fault, I thought at the time, that I got into this mess. He first mentioned duck hunting to me on a warm summer evening fishing for stripers in Winslow. The striper fishing wasn't very good, but there were a lot of landlocked salmon rising to insects on the surface. I had only a spinning rig with poppers for stripers (I stink at fly fishing; perhaps that is the subject for another blog), but my friend had a fly rod and switched to salmon flies. I was mostly watching and tossed my popper in occasionally, and my friend made a suggestion:
"You know what you would really like: duck hunting."
I was skeptical. I had very little firearms experience, and most importantly, I wasn't a morning person. Growing up, my dad worked at the Marine Biological Laboratory in Woods Hole, so that's where I spent summers. I had a 13-foot Boston Whaler that I took everywhere, and by everywhere, I mean fishing. My favorite fish to catch was bonito, but I also loved catching bluefish, stripers, and weakfish, especially on live menhaden. In those days, there were lots of menhaden around Woods Hole (sadly, I hear from friends that the menhaden haven't shown up for years and have been fished out of the area for dietary supplements), and predator fish would drive them right up into the shallows. You could snag a menhaden, rig them up with a single hook in the tail and head, and then watch bluefish chase your fish through the shallows.
That was thrilling, but I digress. The point of all of this was to say that I rarely got up extra early in the morning to fish. Everyone said you need to fish at first light, but I did quite well when I got done with my summer job for the afternoon, or even on lunch break. I had a feeling duck hunting was different, and the thought of waking up at 5 a.m. (little did I know that I would often be waking up at 2:30 or 3 a.m.) didn't thrill me.
Still, my friend was insistent and kept after me to take my hunter's safety course and even went with me to buy my first shotgun. Before I knew it, it was October, and my first opening day had arrived. I was looking forward to it, in principle, but I wasn't happy about meeting at 5 a.m. (it meant I had to wake up at 3:30 a.m.). Still, I had to try.
That first morning, it became clear to me that I had no idea what opening day was all about. My friend, who is 10 years younger than I am and has a lot of energy anyway, was really jumping. He's also a good six inches taller than me and moves through chest-deep swamp water a lot better, too. What the heck was I doing?  I lost sight of my friend in the dark, and he had to come back for me. He wasn't very happy. We set up, if you can call it that, since we had no decoys and were just standing in the marsh up to our chests trying to look like we belonged. We were about 200 feet apart. I thought I was ready. I had bought a gun that allowed me to use 3 ½ inch shells (I never use more than 3 inch shells anymore) and had fiber optic sites (I didn't know anything about leading or that wingshooting is totally different from rifle shooting)!
It wasn't long before legal shooting time, and I got my first shot at a duck. The butt of my shotgun slipped off my shoulder and the receiver hit me in the face. Even little cuts on the face bleed a lot, and this was no exception. Most of the blood was coming from my lip and it also got into my mouth. I thought: "This sucks. I am lost in a swamp and likely scarred for life, and I can't even walk over to where my friend is to ask how bad a cut I have because to him, it's friggin' Christmas morning, and he's having a great time that comes only once a year." Needless to say, I got no ducks that morning, but once I got to breakfast I could see that I would get by with just a fat lip and a scab for a while, so that was good news.
My friend talked me into going out again in the afternoon. This time we took a canoe to a pond where we had to portage over four or five beaver dams. Then, to my surprise, we got out of the canoe, and guess what? We were standing in chest-deep water again! Was this always what duck hunting is like, I wondered? One thing went differently in the afternoon, though. About two minutes before last light, a Wood Duck flew close enough to me that even though I lined it up in my sites, I got it. I was hooked. I didn't get another duck until December, but I enjoyed trying a lot!
There are a few lessons here. One is, if you want a friend new to the sport to stick with duck hunting, take him or her someplace where they don't spend the majority of the time in chest-deep water. I don't hunt like this anymore. I let my dog go into the deep water.
Also, don't let a newbie use 3 ½ inch shells. They hurt under the best of circumstances.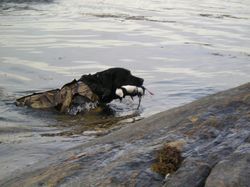 Finally, things that are worth doing mostly take work. I've put a lot of time into shooting lessons, dog training, skeet, and sporting clays in the last seven years, and it's paid off.  There's nothing like connecting with a duck and watching my lab retrieve it. One day this past November I was sitting on an island in Casco Bay with this same friend. That was a great morning (I got an American Black Duck, a Bufflehead, and a "whistler," and none were easy shots).  I said "I love duck hunting," and my friend said he felt like he could take a lot of credit for introducing me to the sport. I agreed, but I also added that he had created a bit of a monster.
At this point, the only one who really matches my enthusiasm for hunting is my dog, and I suspect I drive the rest of my friends a little nuts with this obsession. Now, thanks to the Internet, I can tell even more people my stories!
If, like Nick, you enjoy Maine's environment, help us take care of it. Join the NRCM Action Network today!
Nick Bennett, NRCM's staff scientist and watershed project director, is an avid duck hunter.  He's also dabbled with much less success in bird hunting, deer hunting, and rabbit hunting.  He'll be writing a regular blog on hunting and environmental issues, with guest appearances from time to time by other hunting and fishing enthusiasts.