The St. George science students have been very busy this spring. By participating in a number of hands-on experiences as well as talking to local experts, these students are seeking better understanding of how the lands and animals in and around the Marsh affect its health and movement. This post provides a sampling of what these students have been learning. —Sarah Oberink, NRCM Protecting the Nature of Maine Education Grants Program Intern
Movement of Water
In class we have been learning about watersheds and their features and processes. We learned that a watershed is a place in the land where all the water flows to one big river, lake, or pond. We have also been learning about point source pollution and nonpoint source of pollution and how pollution can spread to other features of our watershed.
To help us understand how water moves, we created small models. We got cans, crumpled them up, taped them together, and put tin foil over it. We then squirted water all over it.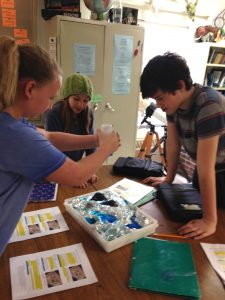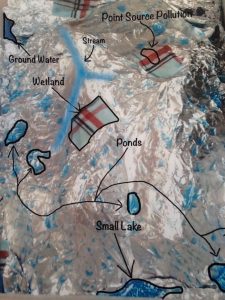 Here is more of what the students had to say after using our models:
"This model helped me learn the connections between surface water and groundwater because whatever kind of water is on the surface eventually goes to the ground."
"This model taught me about the connections of surface water and groundwater. I learned that the water on the surface will eventually end up in the groundwater. A negative fact about this, though, is that if pollution is in the surface water and it eventually goes into the ground, that pollution will travel and can hurt things that are under the ground. This also happened in our model. Some of the pollution went into our groundwater, but also went into our lakes and small ponds or puddles."
"This project really helped me understand how pollution travels, and helped me learn about watersheds."
—by Lute, Henry, Gwen, Addie, Lydia, Ella, Leah, Taylor, James, Mya
Surveying the Outlet Stream
Students were privileged to help survey elevations of the outlet stream to the Marsh. The Nature Conservancy made a site visit to the stream on May 3rd; asked by the town's Conservation Commission to survey the site, and collect data to be used in the process of creating a concept design to improve fish passage. Their crew of four biologists enlisted the help of both 6th- and 7th- grade volunteers to help hold the two prism poles as they took distance and angle measurements of referenced points that would help recreate the terrain of the outlet. Students found it took concentration to keep the pole steady and level.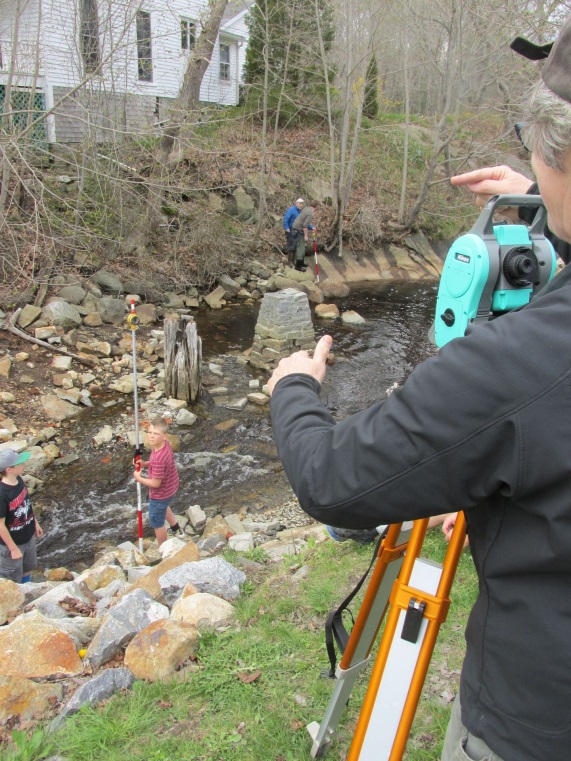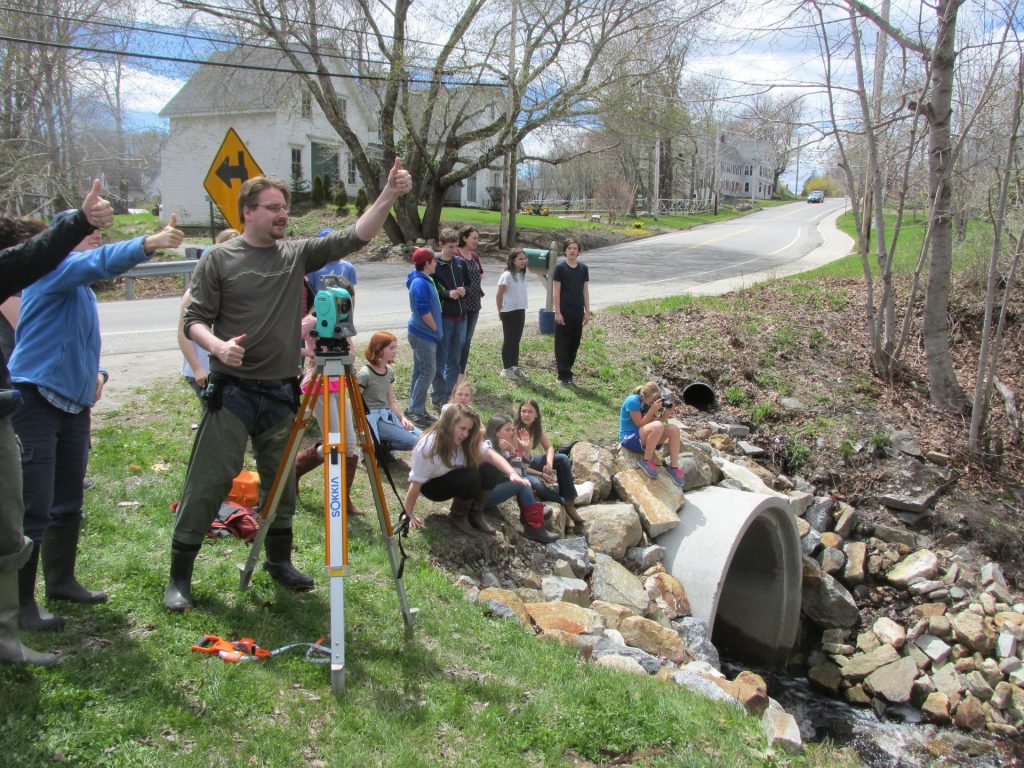 There was quite a lot of enthusiasm to see these professionals working in the field, taking up the cause of the returning alewives!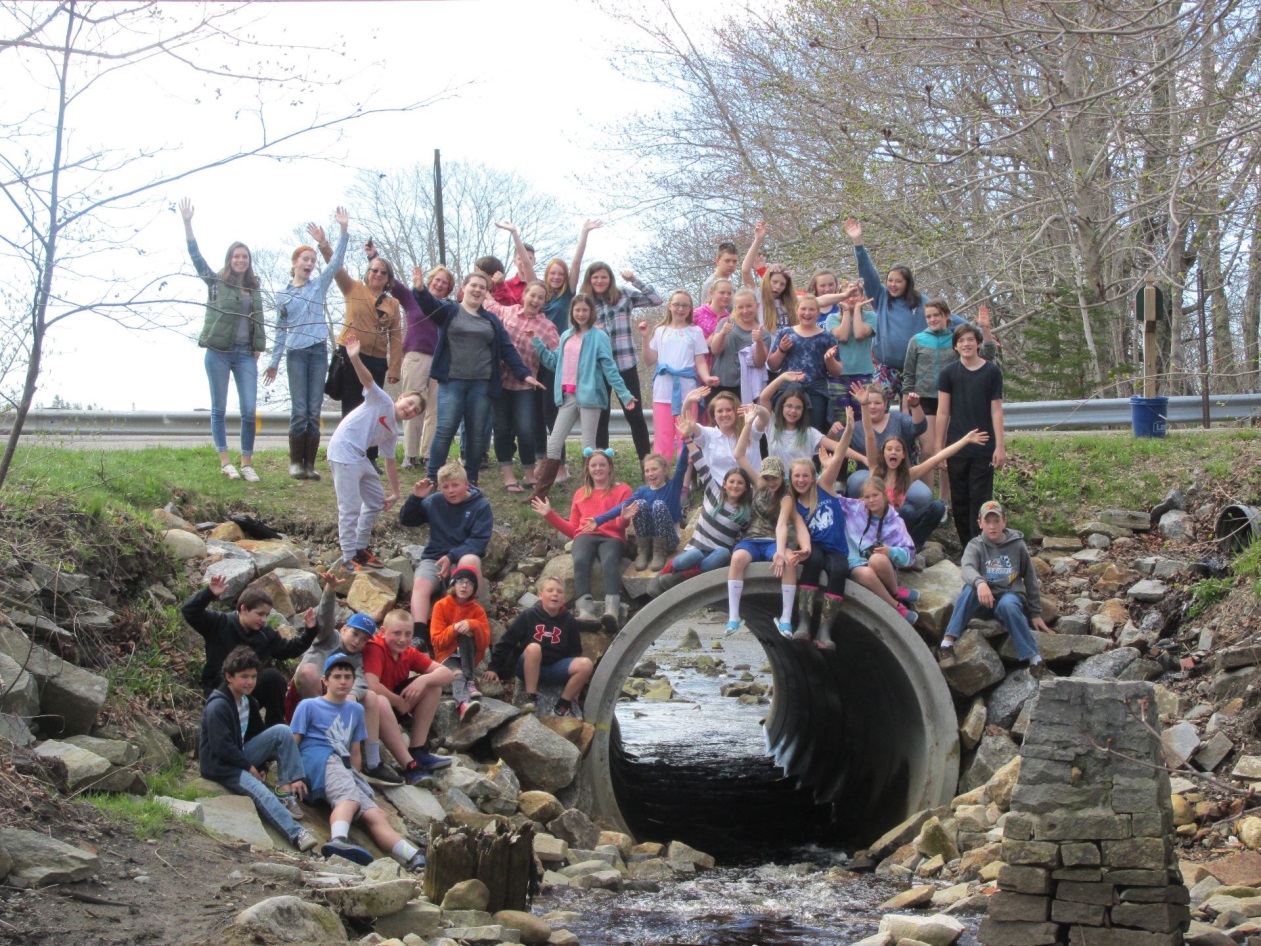 —Guest Post by Alison England, St. George Science Teacher
These learning experiences are helping students  understand the interrelatedness of both the marsh and its surroundings. What humans and alewives and other living critters contribute to the ecosystem affects the health of the marsh. The skills that the St. George students are fostering will help them to have a positive effect on the marsh in the future. Great job, St. George! —Sarah Oberink, Education Grants NRCM Intern