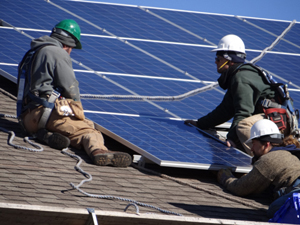 Despite Maine's current lack of a comprehensive solar policy, individuals, businesses, and towns around the state are taking matters into their own hands and moving toward a more sustainable energy future with solar power.
The Spotlight has already highlighted several community-scale solar projects, including municipal solar projects like those currently operating in or proposed for Bar Harbor, Belfast, and other towns. But Town of Winslow officials recently approved  rules that would allow for construction of large, commercial-scale solar projects. In fact, the proposal that spurred the action would be the largest solar project in Maine.
Town  officials discussed some of the issues surrounding commercial-scale solar production including land use, zoning, set-backs, protection of residential areas and vistas, and more. They  recognized the potential benefits that  large-scale solar projects could generate in their town, setting an important precedent for Maine.
Winslow and other towns are taking bold steps to ensure they tap  into  clean, local energy sources like solar power to increase energy independence, create good jobs, and cut dirty energy pollution. Way to go, Winslow!
Our sustainability radar is always on, and we love to share. Do you have information about a great project helping to make Maine a more sustainable place to call home that you would like to see featured on NRCM's blog? Guest posts and alerts about interesting sustainability stories are always welcome! If it is good news for our environment and involves Maine or Mainers, it belongs in the spotlight. Please contact Sarah Nichols, NRCM Sustainable Maine Project Director at snichols@nrcm.org or (207) 430-0170 or Chrissy Adamowicz, NRCM Sustainable Maine Outreach Coordinator at cadamowicz@nrcm.org or (207) 430-0144.