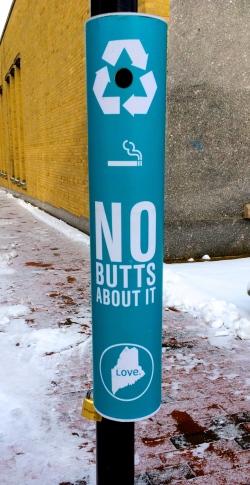 Portland, Maine must be grateful that Mike Roylos, former owner of the Spartan Grill on Congress St., was tired of sweeping up cigarette butts from the sidewalk in front of his restaurant. Roylos was so frustrated by the inconvenience, pollution, and unsightliness of the cigarette butts littering Portland's cobblestoned streets, that he created the "Sidewalk Buttler." The "Buttler" is a cigarette butt recycling bin, dozens of which now line the streets of downtown Portland.
Comprising 38 percent of all roadside litter, cigarette butts are the most common form of litter in Portland and the world. Contrary to popular belief, cigarette butts are not biodegradable, and their filters contain more than 400 toxic chemicals! When it rains these butts and their toxic chemicals make their way through storm drains into Casco Bay, polluting one of Southern Maine's most valuable resources. The Buttlers have helped change that.
Since the rollout in November 2014, the Buttlers, manufactured and tested by Roylos, have proven to be incredibly successful. By mid-2015, about 65 of these devices had been installed throughout Portland in places where cigarette litter was the most abundant, and they had already received more than 300,000 butts! Portland workfare recipients empty the butts from the receptacles, and bring them back to the city garage where they are sent off to be recycled, for free, by the company, Terracycle. The company converts the butts into usable items such as railroad ties and benches.
Not only are the Sidewalk Buttlers reducing the amount of harmful litter in Portland, but they also raise awareness of the harm that littering can cause. With the success of Portland's Sidewalk Buttlers, the program is set to expand both within and beyond the city. Written on the Sidewalk Buttlers is the phrase, "Love Maine, No Butts about it," something that Portland has truly taken to heart with this idea that has brought business owners, environmental leaders, and residents together to help keep Maine healthy, clean, and beautiful.
FMI, visit Mike's website at www.sidewalkbuttler.com.
Our sustainability radar is always on, and we love to share. Do you have information about a great project helping to make Maine a more sustainable place to call home that you would like to see featured on NRCM's blog? Guest posts and alerts about interesting sustainability stories are always welcome! If it is good news for our environment and involves Maine or Mainers, it belongs in the spotlight. Please contact Sarah Nichols, NRCM Sustainable Maine Director at snichols@nrcm.org or (207) 430-0170 or Chrissy Adamowicz, NRCM Sustainable Maine Outreach Coordinator at cadamowicz@nrcm.org or (207) 430-0144.