You may have noticed a recent uptick in the fairly depressing discussion about wasted food, but also the hopeful number of solutions. Maybe this topic is new to you, or perhaps you're familiar with it—and maybe  you've even taken a more proactive step and attended a food waste-focused event here in Maine, including one of many hosted by the Natural Resources Council of Maine. Regardless, the fact that people are starting to pay attention to food waste is a very, very good thing.
By now you may have heard the statistics. Every year the United States wastes 40 percent of the food produced for human consumption. That adds up to about 133 billion pounds of food that ends up in landfills—enough to fill the Empire State Building 93 times. Meanwhile, 50 million people in the United States, nearly a quarter of them children, are food insecure, which the USDA defines as "limited or uncertain availability of nutritionally adequate and safe foods or limited or uncertain ability to acquire acceptable foods in socially acceptable ways."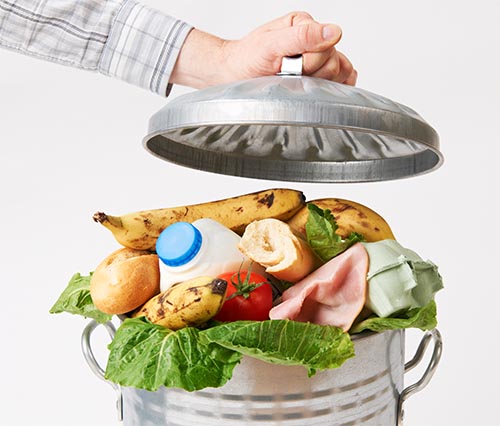 But statistics are just numbers unless they are put into context.
With just the food that is wasted in the United States, we could lift 430 million people out of food insecurity. We could actually provide three square meals a day to 43 million people. We could save the $161 billion that food waste annually costs the U.S. economy. We could also help save the planet.
According to journalist and author Jonathan Bloom, featured in the food waste documentary Just Eat It, 97 percent of the food we waste ends up in landfills. When food is aggregated in landfills, trapped in plastic garbage bags and buried beneath millions of pounds of other waste, it breaks down without oxygen. This means that, unlike, say, an apple core, which would beneficially return nutrients to the soil as it breaks down, food waste in landfills is broken down by anaerobic bacteria, which produce methane gas. Methane is exponentially more dangerous than CO2 in terms of its ability to trap heat inside our atmosphere. So we're basically fueling climate change by throwing food into landfills. And we're paying a lot of money to do it.
Our sustainability radar is always on, and we love to share. Do you have information about a great project helping to make Maine a more sustainable place to call home that you would like to see featured on NRCM's blog? Guest posts and alerts about interesting sustainability stories are always welcome! If it is good news for our environment and involves Maine or Mainers, it belongs in the spotlight. Please contact Sarah Nichols, NRCM Sustainable Maine Director at snichols@nrcm.org or (207) 430-0170 or Chrissy Adamowicz, NRCM Sustainable Maine Outreach Coordinator at cadamowicz@nrcm.org or (207) 430-0144.