It has been well over a month and a half since I purchased my Milano scooter to save on gas as well as help reduce my carbon footprint on this beautiful earth we must all share!
I find it very relaxing to cruise around town on my scooter. It is also much more entertaining when I have to run my errands.  I am having conversations with people I may have never met or spoken to before.  Just today I was at Staples running an errand for work and while getting on my scooter a nice couple approached me asking how I liked it, how far I go, how fast it goes and a bunch of questions that they too have been curious about. I am more than happy to take a few moments out of my day to express my enthusiasm for riding my scooter.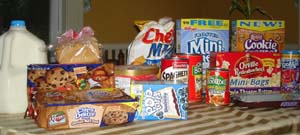 Today I would like to share with you news of my previous shopping trip.  Here is a photo to show you that if you do decide to purchase a scooter, it is still possible to do your quick errands and grocery shopping at the end of a work day.  The photo shows all of the food that I picked up in one quick trip to the grocery store: 1 gallon of milk, 2 boxes of cereal, a loaf of bread, check mix, ice cream, 2 packages of chocolate chip cookies, Pop Tarts, 3 cans of food and some sugar free grape Kool-Aid, a package of Snickers, Three Musketeers and some popcorn!  Those all fit nicely into my bag and my seat on my scooter.  I could have even picked up a few smaller items but I didn't want to push my luck!
In addition to the bag I have bungeed onto the back of my scooter I have a stretchable bungee net that fits over anything to help keep things on the scooter.  That was a great investment as well.  If something is too long to put in the seat or the bag then I simply bungee it to the bag!
I would love to hear your stories if you have decided to purchase a scooter, motorcycle or bike for alternate means of getting around. Happy Riding!