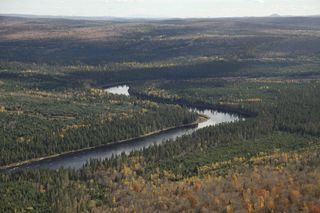 The U.S House passed their version of a "continuing resolution" to fund the federal government through the end of this fiscal year (September 30). The cuts to programs for wildlife protection, land conservation, and clean air and water send us back 40 years. While Maine's Representatives Mike Michaud and Chellie Pingree joined all other Democrats and four Republicans in voting against this budget, it passed.
Particularly bad for Maine are the federal funding cuts for land conservation that have supported Acadia National Park, the Rachel Carson National Wildlife Refuge, the Allagash Wilderness Waterway and many other special places. In fact, the Land and Water Conservation Fund was essentially eliminated – with a 90% cut from FY10 levels. This would bring land conservation to a halt across the country. The Forest Legacy Program, which has helped pay for many landscape scale conservation easements in the North Woods, was also gutted. Both of these federal programs are also essential in providing the "matching funds" that are required by the Land for Maine's Future program.
This budget stops our efforts to improve air quality and combat climate change by undermining the Clean Air Act. It provides no funding for the Environmental Protection Agency to move forward on regulating carbon emissions and to assist states – like Maine – in their efforts to reduce emissions.
Fortunately, this is not the end of the story. President Obama has submitted his version of a continuing resolution and now the Senate will need to pass theirs. A final continuing resolution must be passed by March 4, or the federal government may shut-down.
We are counting on a reasonable budget compromise, with help from moderates like Senator Snowe and Senator Collins from Maine, that protects our land, water, and air from declining in quality. Maine people have a great deal at stake.