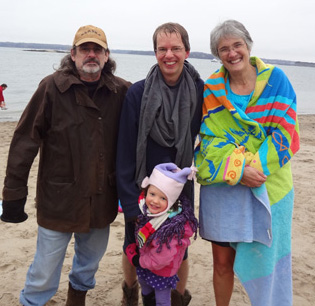 Oh, go jump in the ocean! Right. That's what I'll be doing at noon this New Year's Eve. I'll be at East End Beach in Portland trying to convince myself it's a hot, summer day as I run into the icy waters with almost 200 other wild and crazy people who love Maine's environment. We're all participating in NRCM's Polar Dip & Dash to help raise awareness about the most serious environmental issue of our time: climate change. Maine's coastline is an especially vivid reminder of the harm Maine faces if the planet keeps heating up.
In a recent article in the Bangor Daily News, experts pointed to higher temperatures in the Gulf of Maine as a factor in bacterial outbreaks in clams and other bivalves that live in Maine's ocean waters. Warming gulf waters are at least partially to blame for shrinking shrimp catches and the abundance of soft-shell lobsters that caused the price to crash for Maine lobstermen last summer. One researcher notes that Gulf of Maine temperatures have been dramatically higher than in the past and that lobster, shrimp, and cod may all be forced to shift their ranges, possibly disappearing altogether from the places we are accustomed to finding them.
In addition, the devastation caused by Superstorm Sandy was a tragic reminder of what can happen to coastal areas during weather like that—and many experts are saying that we can expect more storms like Sandy as the world heats up.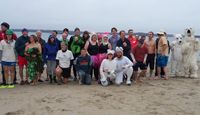 Our jump into Casco Bay on a cold winter day won't stop climate change by itself. But I hope it puts the spotlight on global warming and provides a brisk wake up call to us all that we must demand changes in state and federal policies that will reduce global warming pollution.
I just co-authored an op-ed with Dr. Nancy Cummings, a Farmington physician, that ran in the the Bangor Daily News on December 27th.  We are celebrating the progress made by the U.S. Environmental Protection Agency this last year to clean up our air from emissions that cause health problems and add to global warming. The EPA finalized three new clean air standards that will protect Americans from dangerous pollution from power plants and other industrial sources. In addition, the administration set new motor vehicle fuel efficiency standards to almost double the average fuel economy of new cars and trucks by 2025. This will also greatly reduce pollution and save thousands of lives each year, prevent asthma attacks and heart attacks, and help clean up our environment. There's still more to be done. Congress should vote to extend the production tax credit, a business incentive for clean energy development that has helped to create thousands of jobs in Maine and elsewhere. This vote is due by Dec. 31.
As you can imagine, lobbyists for the oil, gas, and coal industries are in overdrive to stop clean air and clean energy initiatives. We must urge Maine's senators to stand firm against attacks on efforts to clean up air pollution and to support investments in clean energy.
My dip into the icy Atlantic on New Year's Eve day is also a way to celebrate all of the hard work NRCM does to fight global warming on the policy front, from supporting clean, renewable energy to promoting energy efficiency programs. This tremendous effort takes resources, which is why we ask for your financial pledge of support for our Polar Dip and Dash. It's a fun and important way to be part of the action.
I also hope you'll take a moment to visit our Action Center, where you can urge Congress to support renewable energy and take action on any number of any issues affecting our environment. Thank you for caring about Maine's environment, and for your support.
—Lisa Pohlmann, NRCM CEO
Related:
Watch our cool new Polar Dip & Dash YouTube video.
Portland Press Herald story: What Global Warming Looks Like
Dirty Tar Sands Oil Threatens Maine's Environment